Innovative Awards Ceremony
21 November 2005
The RSC this year decided to add some Park Lane glitter to its annual awards ceremony. Instead of awards being presented in traditional manner in mid-summer at its London offices it combined them with the launch of the organisation's new General Assembly at the Hilton Hotel at the NEC.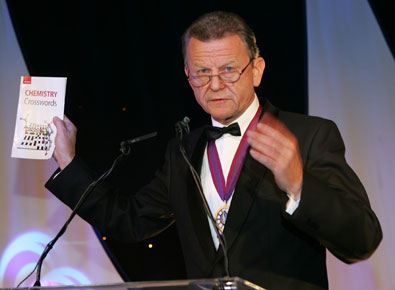 President of the RSC Dr Simon Campbell flourishes a copy of its new "Chemistry Crosswords" book at Birmingham's National Exhibition Centre, where an innovative awards ceremony was mounted on Friday 18 November 2005
The two-day assembly event and the awards dinner took the Royal Society of Chemistry to an innovative and more sophisticated level of self-presentation.
Meetings and workshops held in the Hilton's meetings suites gave members and officers opportunities to mix and to exchange frank views about the direction of the UK chemical sciences community and of the society itself.
The first day was capped by the black-tie dinner at the end of which Simon Campbell presented awards to 30 winners of society prizes on stage with music and two giant television screens.
Arranged with input from a number of RSC departments, the assembly and stylish awards dinner was seen as a high-profile way in which chemistry could reflect its important role in society.
Richard Porte, RSC Head of Campaigns, said afterwards:
"This event and the decision to stage it in a new way marked quite a dramatic departure for the RSC. By staging the Awards at the NEC with some glitz, we were able to demonstrate that scientists know how to celebrate success as stylishly as any other organisation."