Experts to debate risks of Britain's nuclear future: 13 December 2005
09 December 2005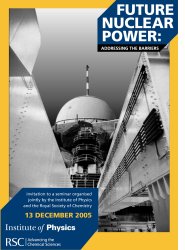 Following reports that the Prime Minister has decided new nuclear power stations should be built to contribute to future UK energy needs, two of the country's leading scientific societies will hold a seminar to look at the risks associated with new nuclear build.
Organized by the Royal Society of Chemistry and the Institute of Physics, 'Future nuclear power: Addressing the barriers', will look at some of the issues associated with new nuclear build in the UK, including nuclear waste and the health effects of radiation on local populations.
The seminar will cover nuclear safety and security concerns. What are the risks and can we control them? How does the nuclear safety record compare to other forms of energy production? Finally, the seminar will ask, if the benefits can be demonstrated, can the British public be persuaded of the case for nuclear power?
The event will be a vital and timely forum to air views and to share expertise on nuclear power, before a final decision on the UK's energy strategy is announced in 2006.
Speakers
Professor Bryn Bridges
Genome Damage and Stability Centre, University of Sussex
Professor Neil Chapman
Department of Engineering Materials, University of Sheffield and ITC School, Switzerland

Professor Peter Zimmerman
Department of War Studies, King's College London

Mr Malcolm Grimston
Associate Fellow Chatham House, Honorary Research Fellow Imperial College
Chairman
Graham Ward
Past Chairman of the British Energy Association and Senior Partner PriceWaterhouseCoopers
The seminar will be staged at the Kohn Centre, The Royal Society, 6-9 Carlton House Terrace, London SW1Y 5AG at 5.30pm, 13 December 2005.

Contact and Further Information
Brian Emsley
Media Relations Manager
Royal Society of Chemistry, Burlington House, Piccadilly, London W1J 0BA
Tel: +44 (0)20 7440 3317 or +44 (0) 7966 939257
Fax: +44 (0)20 7437 8883

---