Chemical Industry gives top award to RSC President
06 July 2006
Dr Simon Campbell, President of the RSC, has won the highly prestigious Individual Achievement Award at the Chemical Industries Association Awards Ceremony, held at the Hilton Hotel, Park Lane.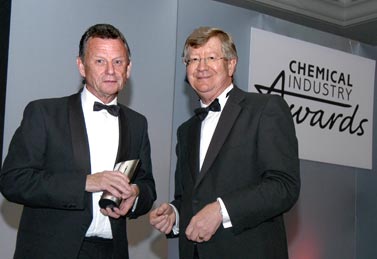 Simon Campbell receives his award from Geoff Dann, CIA President
Speaking after receiving the award from CIA President, Geoff Dann, Dr Campbell said: "I am delighted to have received the Individual Achievement Award from the CIA.
"It is a great honour to be recognised by my peers in the chemicals industry in this way."
The awards celebrate the important contribution that the chemical industry makes to the our prosperity and well being in the UK, and Dr Campbell received the Individual Achievement Award in recognition of his many achievements as he has pursued his lifelong interest in chemistry.
Dr Campbell graduated and obtained his PhD from the University of Birmingham, before carrying out postdoctoral research in Chile and at Stanford University in America.
He was then appointed visiting professor at the Universidade de Sao Paulo, Brasil, in 1970, and two years later joined Pfizer Central Research, Sandwich, as a medicinal chemist.
During the next 26 years, he co-authored over 110 publications and patents and was a key member of the research teams that discovered Cardura, Norvasc (Istin) and Viagra. By the time of his retirement from Pfizer in 1998, Dr Campbell was Senior Vice President for World-wide Discovery and Medicinals R&D Europe.
His scientific contributions have been recognised by the Royal Society of Chemistry Award for Medicinal Chemistry (1989), the Herschberg Award from the American Chemical Society (1997), and the Industry Research Institute (US) Achievement Award (1997).
He has served on various professional and research bodies, and as chair of the Expert Scientific Advisory Committee for the Medicines for Malaria Venture (Geneva) from 1999-2003.
Dr Campbell is a Fellow of the Royal Society, and has honorary degrees from both the University of Kent (1999) and the University of Birmingham (2004).
As well as being a Fellow of the RSC, Dr Campbell is a member of the American Chemical Society and was elected Fellow of the Academy of Medical Sciences in 2003. Dr Campbell was elected Fellow of the Royal Society (1999), he received honorary DSc degrees from the Universities of Kent (1999) and Birmingham (2004) and was made a CBE in the Queens Birthday Honours List in June.
He currently works in a consultancy role for a wide range of companies in the UK and worldwide, and sits on both the Council of the University of Kent and the Advisory Council for CASE.
The RSC was also involved in two other awards - the organisation sponsored the Responsible Care Award, given to County Durham-based Hydro-polymers Ltd, and also judged the Young Ambassador category, won by Ciba Speciality Chemicals representative Rebecca Farnell.
Contact and Further Information
Jon Edwards
Media Executive
Royal Society of Chemistry, Burlington House, Piccadilly, London, W1J 0BA
Tel: +44 (0) 20 7440 3322 or +44 (0) 7770 431013

---