Golden bullet for cancer
17 August 2006
Scientists in the UK have found a way to target cancer with gold.
The research is reported in the latest edition of The Royal Society of Chemistry Journal Photochemical and Photobiological Sciences.
Professor David Russell and a team at the University of East Anglia have designed a system which delivers a light sensitive drug to cancer cells.

The system uses gold nanoparticles, which are bound to both an anti-cancer drug and a molecule called a phase transfer agent.
The drug complex is then used to kill cancer cells in a process called photodynamic therapy (PDT) - an established cancer treatment available in several countries.
PDT uses a photoactive drug (a photosensitiser) and light.
When light hits the drug complex, it targets and damages the cancer cells, leaving healthy tissue unharmed.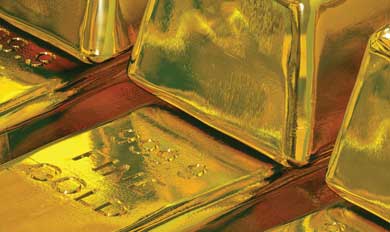 Prof Russell used red light to irradiate the drug complex, which produced an active form of oxygen - 'singlet' oxygen - which is toxic to cells.
Using the gold containing drug complex led to a 50 per cent increase in the amount of singlet oxygen produced, as compared to the drug alone.
Prof Russell then showed that cervical cancer cells took up the complex, leading to apoptosis, or 'cell suicide.'
He said: "While our results are very encouraging, the next key phase of the work is the take the in vitro results to the in vivo environment. To do this, we are collaborating with a PDT group in Padova, Italy."
Professor David Phillips, a PDT expert from Imperial College, London, said: "In this case, the use of the gold nanoparticles enhances the singlet oxygen yield, so is a real bonus.
"Although there will be several factors to consider, the delivery system promises well for future applications in vivo."
with thanks to Katherine Vickers for the original article

Contact and Further Information
Jon Edwards
Media Executive
Royal Society of Chemistry, Burlington House, Piccadilly, London, W1J 0BA
Tel: +44 (0) 20 7440 3322 or +44 (0) 7770 431013

---