Science entrepreneur says campus chemistry erosion will undermine UK
06 April 2006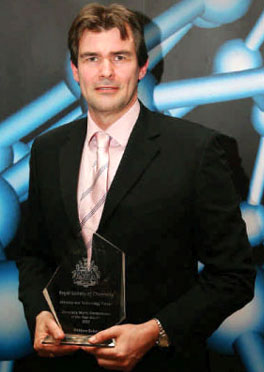 Matthew Baker, winner of the Royal Society of Chemistry Entrepreneur of the Year award
Matthew Baker, winner of the Royal Society of Chemistry Entrepreneur of the Year award, and creator of the company DRI, recently sold for $65 million, has stressed the urgency for better funding of university science.
Speaking ahead of the RSC Innovation Awards, he said that companies like his had benefited from skills and innovation developed in campus chemistry departments and that the threatened closure of the one at Sussex was a matter of national concern.
The founder of DRI, which has been acquired by Invitrogen, the world's largest life sciences organisation, stressed the importance of chemistry to the future health and wealth of the UK.
"Chemistry research and teaching at Britain's universities is essential to our future economy," said Mr Baker, chief executive of Kent-based Invitrogen (DRI Ltd).
Mr Baker said the rapid success of his company was built on many factors, at the forefront of which were advances achieved by UK chemical scientists in recent years as well as in earlier decades.
"If the UK allows its university chemistry departments to atrophy from lack of funds the scientific community will suffer badly and as a result the country more widely will suffer the consequences very quickly."
Matthew Baker, 47, created DRI eight years ago with a small team of scientists and marketing staff, using chemistry to extract nucleic acids for the research, forensic and clinical markets.
The company has now been bought by the US firm Invitrogen Corporation and products developed by DRI are distributed on a global basis.
"We were dismayed by reports of the University of Sussex threatening to close its chemistry department which achieved a coveted 5-rating in the last Research Assessment Exercise. The department has healthy applications numbers for its courses and has a good record of income earning. In recent years we have seen chemistry departments axed at the universities of Exeter, Swansea, Kings College London and Queen Mary.
"Yes, chemistry is more expensive to teach - it entails maintaining laboratories, materials and essential health and safety equipment. But look at what science returns to the nation. My own company - which progressed employing chemists and polymer scientists from the universities of Surrey and Portsmouth - is evidence of what is being achieved by British science and its innate sense of innovation."
DRI was founded in 1998 by Matthew Baker under the chairmanship of eminent chemist Professor Sir John Cadogan who helped establish strong scientific and management teams. Initial funding came from DTI SMART awards and from business interests followed by investment by venture capitalists.
He added: "Due to development of new analytical techniques for nucleic acids the market for rapid easy-to-use purification methods has rapidly expanded. All conventional protocols were cumbersome, hazardous and very difficult to automate.
"Therefore the aim of the firm was to develop a complete range of products to match the needs of the molecular biology providing fast, safe extraction methods.
"We are now well placed to become the leader in our own field. That is exciting and gratifying but at the same time I do not lose sight of the continuing responsibility that the country has to nurture and encourage a spirit of scientific discovery and this will be difficult in an environment where chemistry is jettisoned in favour of non-science courses to balance vice-chancellors' budgets."
Contact and Further Information
Brian Emsley
Media Relations Manager
Royal Society of Chemistry, Burlington House, Piccadilly, London W1J 0BA
Tel: +44 (0)20 7440 3317 or +44 (0) 7966 939257
Fax: +44 (0)20 7437 8883

---