Apricot and cashew nut leftovers need not be thrown out
18 October 2006
An unlikely source of environmentally friendly, renewable feedstocks to make nanomaterials has been found - apricot and cashew nut leftovers!
The research is reported in the latest edition of the Royal Society of Chemistry journal Soft Matter.
Dr George John and Dr Praveen Kumar Vemula from the City College of City University, New York, have used the plant derived resources to make a variety of soft nanomaterials for multiple applications.
Dr John used amygdalin, from apricots, to make amphiphiles - molecules with some parts that are water-loving (hydrophilic) and others that are water-fearing (hydrophobic).
He then used these molecules to make a hydrogel for use as a drug delivery agent for curcumin, which has anti-inflammatory and anti-cancer properties.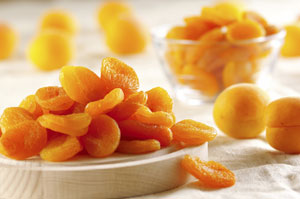 Other experiments used cashew nut liquid to make compounds called 'cardanol-based glycolipids'. These could then be used to make a range of useful nanomaterials, such as gels, liquid crystals, and helical fibres and tubes,
Dr John said: "These materials can be used as smart gels for sensing, electro-optical displays, lubrication, cosmetics, biomedical applications and oil recovery."
Bert Fraser-Reid, president and director of the Natural Products and Glycotechnology Research Institute, Pittsboro, USA, said: "The work powerfully blends organic, green and supramolecular chemistries to obtain drug-delivery vehicles and nanomaterials from the 'uninteresting' parts of apricots and cashew nuts.
"I wonder how many other surrogates for petroleum feed stocks lie unexplored in the discarded parts of our everyday foods."
with thanks to Ruth Needham for the original article

References
G John and P K Vemula, Soft Matter, 2006
DOI: 10.1039/b609422h
Making the most of apricot and cashew nut leftovers

Apricot and cashew nut by-products can be used as renewable feedstocks to make nanomaterials, say researchers in the US.
Contact and Further Information
Jon Edwards
Media Executive
Royal Society of Chemistry, Burlington House, Piccadilly, London, W1J 0BA
Tel: +44 (0) 20 7440 3322 or +44 (0) 7770 431013

---