Diamonds on the brain
08 December 2006
Diamonds could play a key role in the fight against Parkinson's Disease thanks to work by UK and US scientists.
The news is reported in the latest edition of the Royal Society of Chemistry journal The Analyst.
Dr Bhavik Patel, of Imperial College London, and Dr Greg Swain at Michigan State University, East Lansing, US, together with their colleagues have used diamond coated microelectrodes to monitor the release of neurotransmitter serotonin from small intestine cells.
Dr Patel said: "Serotonin is an important signalling molecule in the gut.
"Being able to measure its release from gut cells will allow us to better understand how these cells function and to investigate how serotonin secretion changes during various disease states."
Other current techniques for serotonin measurement are disrupted by a process called "fouling" - where serotonin's oxidation products also "stick" to the electrodes, masking the true serotonin reading.
Using diamond coated electrodes removed this problem, since the structure of diamond is such that it does not attract serotonin's oxidation products.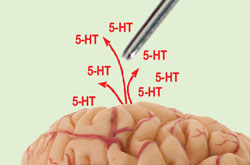 Diamond-coated microelectrodes could be used to detect serotonin in the brain
Dr Patel said that the electrode could be used in the real-time measurement of samples in the body.
He said: "The results could help us to learn about the behavioural changes and the onset on disease conditions from Parkinson's to irritable bowel syndrome."
Dr Jill Venton, an expert neurochemistry at the University of Virginia, Charlottesville, US, said that future developments will include even smaller microelectrodes.
She said: "These diamond electrodes could also be used for serotonin measurements in the brain."
with thanks to Sarah Corcoran for the original article.

References
In vitro continuous amperometric monitoring of 5-hydroxytryptamine release from enterochromaffin cells of the guinea pig ileum BA Patel, X Bian, V Quaiserová-Mocko, JJ Galligan and GM Swain, Analyst, 2007, DOI: 10.1039/B611920d
An improved way of detecting cell signalling molecules could increase scientist's understanding of Parkinson's disease.
Contact and Further Information
Jon Edwards
Media Executive
Royal Society of Chemistry, Burlington House, Piccadilly, London, W1J 0BA
Tel: +44 (0) 20 7440 3322 or +44 (0) 7770 431013

---