Holographic glucose detectors to help diabetes patients
28 July 2006
UK scientists have made a holographic sensor that could be used to continuously monitor blood glucose levels in diabetes patients.
The research is reported in the latest issue of the Royal Society of Chemistry Journal ChemComm.
The news means that the arduous daily task of withdrawing blood from fingertips could become a thing of the past for those with diabetes.
Adrian Horgan, Kathryn Dean and colleagues at Smart Holograms, a start-up company based in Cambridge, have developed a sensor that selectively measures glucose in the presence of other blood sugars.
The sensor uses a special polymer with the hologram imprinted into it using a laser.
When the polymer is placed in a glucose solution, it changes the colour of the reflected light from green to blue.
For other sugars, the colour changes to red. To obtain the actual blood glucose concentration, the wavelength of the reflected light is measured.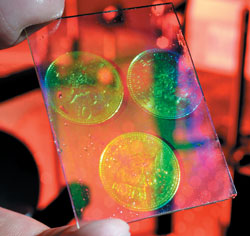 John Pritchard, chief technical officer at Smart Holograms, said: "The holographic sensors are flexible, making them easy to incorporate into contact lenses or catheters.
"Using this technology, it may be possible to take measurements painlessly on an intermittent basis with a mobile phone or in a minimally-invasive manner on a continuous basis."
Andrew Mayes, an expert in holographic sensors at the University of East Anglia, said: "The method looks like it should be very effective - it operates in the correct concentration range under physiological pH and salt concentrations."
Dr Horgan said: "The sensor can be sterilised and the different components are biocompatible, but the next hurdle which faces the devices are toxicological tests and clinical trials in humans.
"In three years, the holographic sensors could be available to people with diabetes as an easy and reliable way to monitor glucose concentrations in the blood."
with thanks to Alison Stoddart for the original article
Contact and Further Information
Jon Edwards
Media Executive
Royal Society of Chemistry, Burlington House, Piccadilly, London, W1J 0BA
Tel: +44 (0) 20 7440 3322 or +44 (0) 7770 431013

---