Is your packaged food still fresh?
09 November 2006
The food industry could be revolutionised by a new sensor which can reveal whether packaged food is still fresh.
The news is reported in the latest edition of the Royal Society of Chemistry journal Chemical Communications.
Much of today's packaged food comes in a protective atmosphere of gases such as nitrogen - with oxygen completely removed. Canadian scientists have developed the new, smart sensor that changes colour when exposed to oxygen
Dr Juan Cesar Scaiano and a team from the University of Ottawa used the organic compound 2-hydroxymethyl anthraquinone in the device. Solutions containing the compound turn from a deep yellow-orange to white when exposed to oxygen - which in practical terms would reveal whether or not, for example, food packaging has been compromised.
To further improve the performance of the sensor, the team then incorporated a solid matrix material known as a zeolite - made of the metals Sodium and Yttrium. This made the colour change more permanent and easily detectable.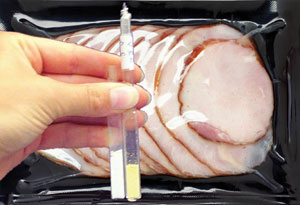 Dr Scaiano said: "We believe that the sensor compound could have a range of applications, including food packaging in supermarkets.
"Other applications may include laboratory glove boxes and other instrumentation normally required to operate in oxygen free conditions.
"The sensor can be 'recharged' and used many times."
Work is now underway to convert the research into a commercial product.
with thanks to Michelle Zgraggen for the original article

References
K L McGilvray, M N Chretien, M Lukeman and J C Scaiano,
Chem. Commun.
, 2006, 4401
DOI:
10.1039/b610577g
A material that changes colour when exposed to oxygen could be used to indicate whether packaged food is still fresh, its inventors claim.
Contact and Further Information
Jon Edwards
Media Executive
Royal Society of Chemistry, Burlington House, Piccadilly, London, W1J 0BA
Tel: +44 (0) 20 7440 3322 or +44 (0) 7770 431013

---