Wigwam shaped channels to aid in early cancer detection
15 September 2006
Tiny wigwam shaped channels that mimic those found in biological membranes could be used to detect the early stages of cancer.
The research is reported in the latest edition of the Royal Society of Chemistry Journal Physical Chemistry - Chemical Physics.
The channels - known as 'nanopores', connect the internal contents of cells in the body to the fluid and tissues surrounding them.
Dr Charles Martin and a team at the University of Florida have developed artificial nanopores to serve as ultra-sensitive biosensors to detect proteins produced in the early stages of diseases - known as 'biomarkers'.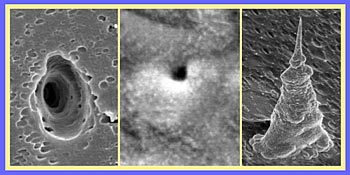 The nanopore (right) is just five micrometres across at the base (left) narrowing to a few nanometres at the tip (centre)
Dr Martin said: "This new approach entails detecting in the patient's blood a very minute amount of biomarker, which indicates the disease is present, but in its very early stages."
The sensors work by detecting changes in the electrical current across the membrane when the biomarker is present.
When the biomarker binds to the tip of the nanopore or passes through the nanopore, it blocks the current from passing through.
Unlike conventional cylindrical nanopore sensors, Dr Martin's channels are wigwam/cone shaped.
Dr Martin said: "Cone shaped nanopores are better suited for sensing applications. They are particularly sensitive because the voltage drop caused by the ion current is focussed at the tip."
Professor Silvana Andreescu, an expert in biosensors at Clarkson University, New York, said: "These synthetic conical nanopores offer the capabilities of biological channels but do not suffer from their fragility and instability.
"These attractive features offer new and interesting possibilities for sensing and will most likely result in the development of a new generation of chemical and biological sensors with enhanced sensitivity and selectivity."
with thanks to Sarah Corcoran for the original article, and to David Parker for providing images for the press

References
Y Choi, L A Baker, H Hillebrenner and C R Martin, Phys. Chem. Chem. Phys., 2006
DOI: 10.1039/b607360c
Nanopores detect disease biomarkers

Nanopores that mimic the pores in biological membranes could be used to detect the early stages of diseases like cancer.
Contact and Further Information
Jon Edwards
Media Executive
Royal Society of Chemistry, Burlington House, Piccadilly, London, W1J 0BA
Tel: +44 (0) 20 7440 3322 or +44 (0) 7770 431013

---