The RSC Industry and Technology Forum Innovation Awards
27 April 2007
The RSC Industry and Technology Forum Innovation awards took place on the evening of the 26th April 2007 at Burlington House with winners in all three categories.
The Chemistry World Entrepreneur of the Year for 2006 was Ian Shott who built up his business, Excelsyn, by buying struggling companies and injecting them with a new lease of life. From a zero start three years ago he's completed a turnover of £12m at the end of the second financial year as a group and anticipates profitable sales in excess of £16m this financial year.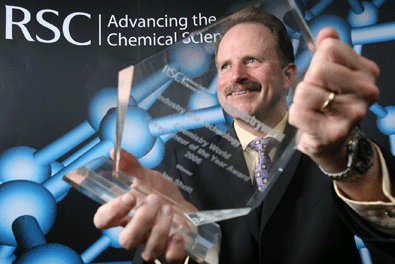 Ian Shott - The Chemistry World Entrepreneur of the Year for 2006
Chris McGuigan was highly commended in the Entrepreneur of the Year category for his work in the pre-clinical and clinical development of a new family of anti-viral agents. His work was licensed to the American company Fermavir in February 2005 with the company now listed as a public entity and recently been taken over by US company Inhibitex.
Prosonix, a company based in Oxford, won the Teamwork in Innovation award for their work with Bath University developing SAX technology for the manufacture of micro and nano-crystalline pharmaceutical ingredients and drug formulation. Their Chief Scientific Officer Graham Ruecroft made award history as this is the second time he's won an RSC award as he won the same award back in 2001 for his work with Chirotech.
Patrick Mulqueen was the deserved winner of the Creativity in Industry award for his innovative work and technical contribution to the agrochemical field in the area of formulation science and in particular to Syngenta. Patrick has worked with many of the large UK companies during his career including DOW Chemicals and Boots and his career so far has resulted in the commercialisation of over 70 products with a sales value of over $350 million per annum.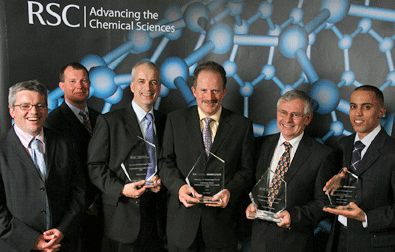 Winners of the RSC Industry and Technology Forum Innovation awards
Contact and Further Information
Press Office
Royal Society of Chemistry, Burlington House, Piccadilly, London W1J 0BA
Tel: +44 (0)1223 432294
Fax: +44 (0)1223 426594

---