RSC Innovation Awards - final call!
29 January 2007
The RSC Innovations Awards for 2006 will close for applications on Wednesday 31st January 2007. There are three awards of £4000 annually to reward, promote and support innovation in the chemical sciences.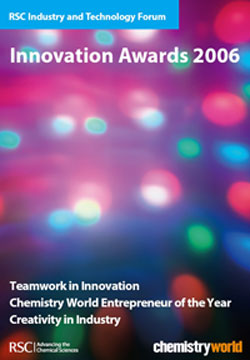 RSC Innovation Awards flyer
Chemistry World Entrepreneur of the Year is for an individual that has successfully started a new company in the chemical sciences.
Teamwork in Innovation is for industrial companies, academic/industrial partnerships, research institutes and associations that have made significant innovations in applied chemistry.
Creativity in Industry is a lifetime achievement award recognising contributions to the chemical science industry.
If you would like to apply for any of these awards the applications forms and selection criteria can be found on the Innovation Awards webpage. You have to be in it to win it!

Contact and Further Information
Mario Moustras
Royal Society of Chemistry, Burlington House, Piccadilly, London W1J 0BA, UK
Tel: +44 (0)20 7440 3388
Fax: +44 (0)20 7734 1227

---
Press Office
Royal Society of Chemistry, Burlington House, Piccadilly, London, W1J 0BA

---