Revival of chemistry - The Independent
25 January 2007
The Independent today publishes a double-page spread, and parallel Editorial comment, on what it judges to be the revival of chemistry in British higher education.
Headlined "Chemistry returns to its element", the story says that "the subject is experiencing a renaissance" and credits the RSC: .. "the Royal Society of Chemistry played a critical role behind the scenes in fighting to keep its subject alive."
A complementary Editorial comment remarks: "The position of chemistry in our universities has been turned round remarkable swiftly."
The RSC itself is not claiming yet a dramatic revival, preferring instead to give a warm welcome to the apparent positive trend while at the same time insisting that the battle is far from won and calling for still more government funding for chemistry in higher and secondary education.
The main Independent feature says: "The circumstances behind chemistry's renewed vitality vary but a strong catalyst has been the RSC's vigorous campaign in support of the subject that has gained in confidence and conviction."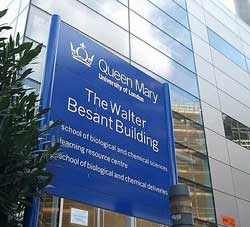 Queen Mary University of London
The RSC launched its Campaign for the Chemical Sciences three years ago to press for more funding for the subject in the wake of a series of departmental closure including management actions, since 2000, at the University of Hertfordshire; Kings College London; Queen Mary College, London; the University of Swansea; the University of Exeter and the University of Sussex.
The RSC drew a line in the sand line in late 2004 over the Exeter closure, driving the issue of science funding to the top of the political and media agendas. Although the Exeter fight did not prevent the department shutting it had the effect of softening the ground for subsequent PR when the University of Sussex attempted the same cost-cutting move in spring 2006.
The ensuing furore, fuelled by the RSC campaign, resulted in the University of Sussex rescinding its decision and strengthening its department and later in the year £75 million extra funding for science was announced by the Higher Education Funding Council for England.
Since then there have been signals of revival in university chemistry, most notably at Queen Mary College, the main focus of The Independent article. The RSC has stressed that there has been an 18% increase in university applications for the subject in the past three years. The numbers signing up for chemistry courses this year - 3,581 - are at their highest since 1999.
Last October PR Week magazine, at its annual national awards, rated the RSC media work over Sussex as the second best in Britain after Cancer Research UK

Related Links
The Independent - chemistry revival - comment piece
Editorial comment regarding the revival of chemistry across the UK
The Independent - chemistry revival - feature
A feature in The Independent newspaper discussing the improving fortunes of chemistry around the UK
External links will open in a new browser window
Contact and Further Information
Press Office
Royal Society of Chemistry, Burlington House, Piccadilly, London W1J 0BA
Tel: +44 (0)1223 432294
Fax: +44 (0)1223 426594

---