Higher Education minister gets to grips with chemistry
22 October 2008
Mr Lammy was invited, with other MPs, to see and hear about how science is benefiting from special funding in the past three years provided by the Government through the Higher Education Funding Council for England.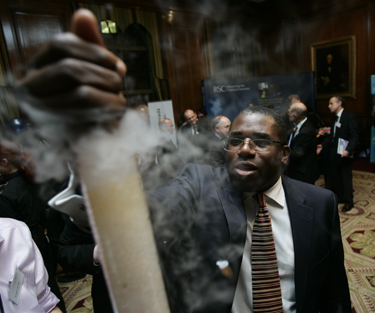 Higher Education minister David Lammy MP checking out an exhibit arranged by the Royal Society of Chemistry education office, UCL and Imperial College London at an exhibition staged in offices near Parliament Square
The money was given after the RSC orchestrated two high-profile campaigns in 2004 and 2006 to train national attention onto the closures of chemistry departments happening to save money at universities, most prominently Exeter (which did shut) and Sussex (which survived).
The eventual success of the RSC media campaign stemmed the problem, and there have been no further chemistry closures since 2006, although the RSC remains vigilant and uncomplacent, pointing out regularly the need to support universities financially.
While it joined in with the HEFCE celebrations for "turning the corner" - as HEFCE put it yesterday - the RSC issued statements warning that more money was required in HE for science, that laboratories in the UK are not being properly funded, and that the country should be heedful of the higher standards of facilities in other parts of the world, especially India, China and the USA.
The Times newspaper quoted the RSC CEO Richard Pike and the Guardian quoted Libby Steele, RSC education manager.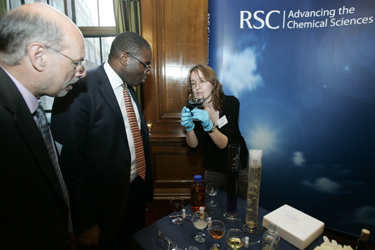 Mr Lammy learns about the chemistry of wine
Contact and Further Information
Press Office
Royal Society of Chemistry, Burlington House, Piccadilly, London W1J 0BA
Tel: +44 (0)1223 432294
Fax: +44 (0)1223 426594

---