Chemistry surge at public school is an example of what can be achieved
22 February 2008
A dramatic rise in the popularity of chemistry at a prominent English public school sets an example to the rest of the country, says the Royal Society of Chemistry.
The surge in chemistry at Haileybury, where 14 of 35 upper sixth chemistry pupils have decided to take the subject at university, demonstrates the RSC's case that good- quality facilities, allied to inspirational teaching, can result in science becoming a sought-after subject.
The achievement of staff and pupils at the school comes two years after the Government committed itself to closing the gap between state and public schools through increased funding.
The Royal Society of Chemistry this week congratulated the school, where chemistry has become the most popular sixth-form subject to be taken to university.
Haileybury, which educated the Labour Prime Minister Clement Attlee, announced that a record number of its pupils were going on to university to read chemistry, and that the three chemistry pupils who applied to Oxford this year had all been offered places.
Haileybury has become so well-respected for chemistry that Jenny Rhodes, a pupil from a Hertford state school, Simon Balle attends Haileybury for her chemistry lessons. Her own school was unable to offer chemistry with her other AS level options. The state school pupil goes to the public school five times a week to undertake 10 periods of chemistry required in the upper sixth. She, too, has been accepted to read chemistry and maths at the University of Southampton from September 2008.
Head of chemistry at Haileybury, Ray Dexter, believes that although the subject is "challenging", the range of skills displayed by chemists is so broad that pupils with all sorts of skills have something to offer the subject.
He said today: "Mathematicians and people good with their hands can make great chemists, as do those with imaginations and fine writing skills. It is almost impossible to see an atom, so a chemist has to be able to visualise it."
Mr Dexter claims that chemistry cannot be taught solely from a book. "It needs to be taught well, with sleeves rolled up and with passion, and the practical work should enhance the pupils' understanding, not be just for show.
"Chemistry, taught badly, is the worst subject in the world, but, if it is well-taught, pupils never want to stop studying it."
The RSC is campaigning for greater funding for science at Britain's 6,500 secondary schools and colleges - especially to upgrade uninspiring or low-grade laboratories - and is pressing for higher standards of teaching, paralleled by more effective teacher recruitment and retention.
Dr Richard Pike, RSC chief executive, said: "What has been achieved by Haileybury is very special and we congratulate the pupils and the teaching staff there. Understandably, we have to acknowledge that a school such as this will have more money to spend on laboratories and teaching facilities. Nevertheless, we are aware that something extra has gone into the student experience there to have lifted so successfully the numbers of young people choosing chemistry at university. It has to be put down to the way that this important subject has been communicated from teacher to pupil. The surroundings are important, which chimes with our campaign for better laboratory conditions in state schools. But for real inspiration there must be good teaching, and Haileybury has given its pupils just that!"
This year the RSC has been consolidating its scheme to convert non-specialists, such as biology teachers, so that they can teach chemistry to a high standard, a project run in partnership with GSK, the pharmaceuticals company. The RSC also manages a project called Chemistry for our Future, a two year pilot programme, funded by the Higher Education Funding Council for England.
The initiative began in September 2006, involving over 20 separate projects and 30 universities. It aims to ensure a strong and sustainable future for chemical science higher education.
Dr Pike added: "We are working hard not just to get appropriate funding for chemistry at schools and universities. We are also stressing at every opportunity the reality that the country needs to produce more young chemical scientists to be able to compete internationally and to be in a position to address the key issues facing us such as climate change, sustainability, energy, food and health."
"If the government can make good on its declared promise to bring parity of funding between state and public schools, it will have achieved something very important, and its legacy will be felt as more scientists emerge to take on the challenges ahead for the UK."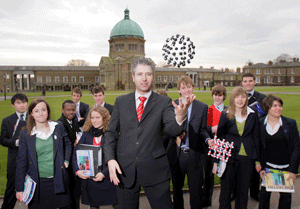 Inspirational teacher Ray Dexter with his young public school chemists. State school student Jenny Rhodes is third from the left.
Contact and Further Information
Press Office
Royal Society of Chemistry, Burlington House, Piccadilly, London W1J 0BA
Tel: +44 (0)1223 432294
Fax: +44 (0)1223 426594

---