Jim Ratcliffe has been honoured by the RSC
21 April 2008
Industrialist Jim Ratcliffe, who heads a company that has become one of the world's most successful industrial concerns, has been honoured by the RSC.
Mr Ratcliffe, chairman of chemicals company INEOS, was presented with an honorary fellowship at the RSC annual Industry and Technology Forum Innovation Awards at Burlington House in the West End.
A chemical engineer and qualified accountant, Jim Ratcliffe started his career with Esso and moved on to Courtaulds from which he joined the venture capital company Advent International, becoming a director.
Over the past decade, via acquisition and organic growth, INEOS companies have a combined annual turnover of about $45 billion, and make a substantial contribution to the chemical sciences, employing more than 16,000 people in 76 manufacturing sites in 20 countries.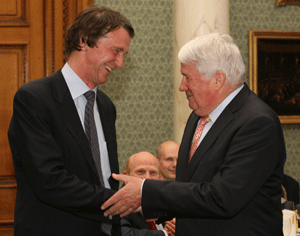 Jim Ratcliffe is congratulated by the RSC's President, Professor Jim Feast
Also at the awards, Harren Jhoti, a truly enterprising scientist, and founder and chief executive of Astex Therapeutics, was named Chemistry World Entrepreneur of the Year. He built a drug discovery and development company using "fragment" technologies to develop small molecule and cancer therapeutics.
Winner of the Teamwork in Innovation award was Dow Corning Ltd. for developing smart textiles which provide impact protection.
John Irven, director of technology at Air Products, won the Creativity in Industry award. Awards were presented by Iain Gray, CEO of Technology Strategy.
Contact and Further Information
Press Office
Royal Society of Chemistry, Burlington House, Piccadilly, London W1J 0BA
Tel: +44 (0)1223 432294
Fax: +44 (0)1223 426594

---