Pan Africa Chemistry Network launch: speakers
29 May 2008
The Pan Africa Chemistry Network has been launched in Kenya from which the organisation's first hub will operate. The network was established by the Royal Society of Chemistry with partner Syngenta. Here are speakers at the 27 May launch and their some of their comments:
Mr Adam Wood, British High Commissioner to Kenya:
It is important for scientists to remain grounded in science - there is a temptation in Africa for educated people to go into politics. But, as a chemist, you have a great deal to offer Africa's development, through knowledge and research.
Kilemi Mwiria, Kenyan Assistant Minister of Education:
I would like to see our best researchers credited as scientific heroes. For tropical diseases like malaria, we are the people who are most affected. We must provide solutions to uniquely African problems.
As a government, we will work to compliment the network, creating the right environment for scientists. I hope that this network will be the most successful of any I have had the opportunity to be associated with: mobilising collaboration and making a real difference. It must be open to new membership in order to move forward and to self-sustain.
Dr Simon Campbell, past-president of the RSC:
Many of Africa's problems can be solved through science. But there are far fewer scientists in Africa than in developed nations. We see this network as bringing together the scientific community in Africa.
Sustainable is the key word. This is not just a talking shop. It will build national chemistry communities to translate millennium goals into a reality.
Dr David Lawrence, head of R&D, Syngenta:
Three quarters of the world's poor live in urban areas and most of them depend on agriculture for a living. We have to work together to ensure that agricultural technology can feed an ever-growing population, and lift the rural population out of poverty.
Without crop protection products, 35-40 % of arable food crops would be lost to pests and diseases each year. Syngenta invests over $800 million each year in R&D in agriculture as we help farmers across the world to improve productivity. How else are we going to feed more than 8 billion people on this planet in 2030, if we don't embrace future technologies?
Agricultural production will have to double by 2050! This isn't going to happen by magic.
In 5 years time, when this hub is able to stand on its own, it will be the sustainable heart of a network that we hope will span the continent.
Professor Mohammed Hassan, executive director of the Third World Academy of Sciences:
The challenges [here] are daunting - 70% of people in Africa live on less that $2 a day. But the opportunities are great. Each square kilometre of the Sahara receives the solar energy equivalent of 1.5 million barrels of oil every year. So cutting edge technology to harness this can transform the lives of people in Africa.
African academics have been sleeping for a long time, but now they are slowly waking up. Now, I hope, we can wake up the African lion.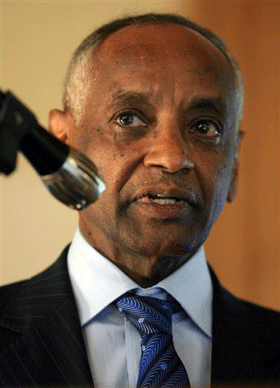 Mohammed Hassan, executive director of the Third World Academy of Sciences
Richard Pike, chief executive of the RSC:
The key issues facing the world: energy; water; health; food and new materials, all of these issues, in the wider context of sustainability, are underpinned by chemistry and the chemical sciences.
The activities of this network will be tailored to the needs of the continent. For example, the Kenya hub's major inaugural event will take place in September: an international conference on enhancing biodiversity.
Professor Shem Wandinga, professor of chemistry at the University of Nairobi and chair of the Kenya hub:
The opportunities here are so exciting. The expansion of academic knowledge will pave the path to transforming the lives of African people through chemistry.
Africa must play a key part in the development of solutions to African problems.
Related Link
23 May 2008
The Royal Society of Chemistry and Syngenta are launching the Pan Africa Chemistry Network on May 27 to support future economic development of the continent.
Contact and Further Information
Press Office
Royal Society of Chemistry, Burlington House, Piccadilly, London W1J 0BA
Tel: +44 (0)1223 432294
Fax: +44 (0)1223 426594

---