Welsh science to provide holistic view of science and the environment
20 May 2008
Scientists from Welsh research and learning centres will today discuss the need to address our environmental future, as well as present, in the fourth annual Science and the Assembly event whose theme this year is "Green Chemistry and the Environment".
The Keynote Address is being given by the Minister for Environment, Jane Davidson AM. She sits in the Cabinet of the Welsh Assembly Government and was appointed in July 2007.
She will be followed by scientists who will cover science ranging from the pre-petrochemical past, with plants providing protection from pests and disease, to the cutting-edge clean fuel of the future, hydrogen. The wide variety of subjects to be discussed represents the need to take a holistic approach to ensure future security for food, health, energy and the environment.
Organised by the Royal Society of Chemistry, on behalf of the science community in Wales, the meeting will hear how chemistry research in Wales might help in dealing with current environmental issues and developing green, sustainable technologies for the future.
The topics to be presented include predicting climate change from looking at rising sea levels, using common plants in place of petrochemicals to obtain useful treatments for human conditions, and how hydrogen derived from renewable sources should be the definitive 21st century green fuel.
Professor Mark S. Baird, professor of organic chemistry at Bangor University, UK, will discuss how we should consider going back to our roots for useful chemicals, and look to common plants for bioactive molecules. For hundreds of years, before the "petrochemical revolution", the Physicians of Myddfai used plants to control agricultural pests, and to cure disease in humans and animals.
Baird suggests that plants offer "enormous potential for molecules which themselves are highly biologically active, or which can provide sustainable supplies of platform chemicals for a range of applications."
Dr Richard Pike, Chief Executive of the Royal Society of Chemistry, feels this kind of forward-thinking is essential to a sustainable future. "Oil and coal are still relatively abundant, but a time will come where we increasingly rely on renewable energy sources such as wind, wave and solar, and on sustainable biomass." said Dr Pike. "And when biomass becomes scarce, it is surely better to use it for food and useful chemicals instead of burning it as fuel."
Science and the Assembly also features an exhibition within the Senedd itself and a Reception for all Members of the Welsh Assembly following their Plenary Session on Tuesday at which Members and Ministers can meet informally with scientists from all across Wales.
Also of interest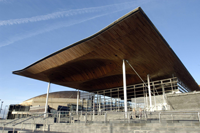 Science & the Assembly 2008
20 May 2008
The Royal Society of Chemistry's annual event took place at the Wales Millennium Centre and the Senedd, Cardiff Bay
Contact and Further Information
Press Office
Royal Society of Chemistry, Burlington House, Piccadilly, London, W1J 0BA

---