RSC rewards excellence in Bangor
14 April 2009
The Royal Society of Chemistry has honoured the achievements of Gessica Howarth and St Gerard's School, Bangor, for outstanding results in a national chemistry competition held last year.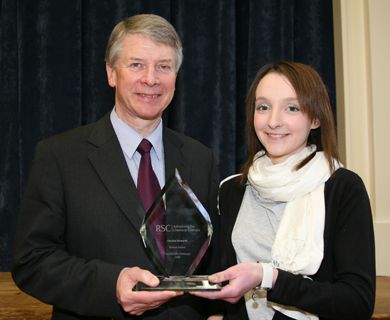 Richard Pike presents the award to Gessica Howarth
The Royal Society of Chemistry's 5-Decade exam challenge tested 16-year old pupils with questions from O-level and GCSE chemistry papers, from the 1960s through to the current decade, focusing largely on mathematically-orientated problems.
The average mark for the 1300 students across the UK that took part was just 25%, but Gessica scored a remarkable 79%, earning a trophy and £500 for both herself and her school's chemistry department.
Gessica has since moved away from the area, but returned with relatives to Bangor to receive the award from Dr Richard Pike, RSC chief executive.
Dr Pike also delivered a presentation on 'Chemistry, Energy and Climate Change' to the A-level students at the school.
Related Links

10 July 2008
The winner and runners-up of the pioneering multi-decade contest are announced
Contact and Further Information