RSC bolsters links with Chinese chemistry community
21 September 2009
Opportunities for international chemistry collaboration proliferated last week as the RSC visited China.
The RSC co-hosted the first China-UK symposium on medicinal chemistry, officially opened its Shanghai office, and CEO Dr Richard Pike signed a memorandum of cooperation between the RSC and the Department of State Administration of Foreign Experts Affairs (SAFEA).
During the week-long visit, packed with remarkable and productive meetings and events, the relationship between the chemistry communities of the UK and China was further strengthened.
At the medicinal chemistry symposium, RSC President Professor Dave Garner made one of a number of welcoming speeches, and leaders in the field presented plenary papers, including RSC Past-President Professor Steven Ley. Attendees also presented over 30 posters, with the best winning bursaries presented by Dr Pike. The symposium was co-organised by the Chinese Chemical Society, the Chinese Pharmaceutical Association, and the RSC, and was sponsored by GlaxoSmithKline.
The RSC Shanghai representative office, based in the Shanghai Institute of Organic Chemistry (SIOC), Chinese Academy of Sciences, was officially opened by Dr Pike, Professor Garner, and Professor Kuiling Ding, Director of the SIOC.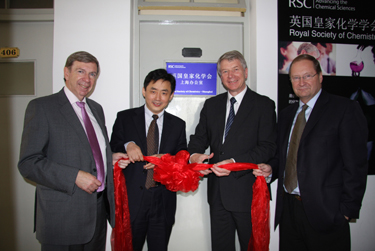 (left to right) RSC President Professor David Garner, SIOC Director Professor Kuiling Ding, RSC Chief Executive Dr Richard Pike and RSC Past-President Professor Steven Ley officially open the RSC Shanghai office
The new office will facilitate RSC operations in China, including promotion of journals, attracting new authors and referees, developing chemistry networks, and further collaboration in staging scientific and educational events in the Shanghai area.
Following much hard work by Professor David Evans, Beijing University of Chemical Technology, and Chunxiao Zheng, RSC Chief Representative, China, a memorandum of cooperation was signed to formalise an agreement to bolster Chinese chemistry.
The memorandum was signed by Dr Pike and Mr Lixian Zhou, Director, Department of Educational and Cultural Experts, and outlines how UK chemists be funded to travel to China and advise on best practice in research publishing.
Contact and Further Information
Press Office
Royal Society of Chemistry, Burlington House, Piccadilly, London, W1J 0BA

---