Vince Cable discusses lack of Government joined-up thinking on climate change
15 July 2009
Vince Cable, Liberal Democrat Treasury Spokesman, met Richard Pike, chief executive, today to discuss energy issues and the way that chemistry can play a role in developing low-carbon sources and projects based on carbon capture and storage.
The meeting was prompted by Dr Cable referring to Dr Pike and the Royal Society of Chemistry in his recent best-selling book The Storm, with particular reference to the underestimate of global proven oil and gas reserves, which is misleading analysts in their future projections of hydrocarbon availability. This formed the subject of papers published by Dr Pike through the Energy Institute and Royal Statistical Society, and a subsequent presentation to the Society of Petroleum Engineers.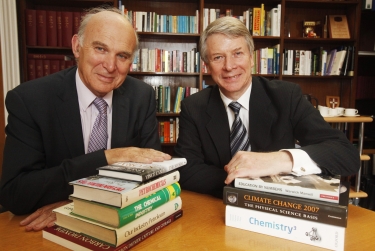 Vince Cable, Liberal Democrat Treasury Spokesman and Richard Pike, RSC chief executive
Prior to entering parliament, Dr Cable worked in the oil industry, and in his current role retains a keen interest in the link between energy and financial issues.
Dr Pike's assertion, based on probability theory, is that there is far more oil and gas readily available than simplistic reporting procedures indicate, and moreover the oil industry itself predicts that 'unconstrained' world production could peak at 130 million barrels per day by 2040, or 50% higher than at present. This is close to 2050, when production would have to be constrained to around 16 million barrels per day, in compliance with current international plans, should carbon capture and storage not be successful.
The implications have not been thought through. This places enormous demands on making sure that carbon capture and storage does work, and that there are also low-carbon alternative sources of energy. Importantly, much of the rise in potential oil and gas production will come from those producer countries that depend significantly on fossil fuels for their Gross Domestic Product (GDP). Managing their transition to a low-carbon economy will create geo-political issues that have not been analysed in detail. Science, and chemistry in particular, will be essential to the resolution of these issues and their business opportunities.
Dr Pike said that the mismatch in thinking, both within the UK and internationally, was hindering practicable solutions, and more transparency was needed.
Dr Cable recognised the role of the Royal Society of Chemistry in promoting theses key messages and the importance of getting more scientific scrutiny of Government plans and actions.
Contact and Further Information
Press Office
Royal Society of Chemistry, Burlington House, Piccadilly, London W1J 0BA
Tel: +44 (0)1223 432294
Fax: +44 (0)1223 426594

---