Iron Lady Margaret Thatcher receiving her Iron award at Burlington House
27 February 2012
With Meryl Streep winning an Oscar for her portrayal of Margaret Thatcher, here's evidence from the Royal Society of Chemistry that the Iron Lady really was made of Fe.
The shot was taken three years ago at Burlington House when Baroness Thatcher came in to celebrate the launch of a book on spin-out companies by Professor Graham Richards, of Oxford University, now on the Royal Society of Chemistry council.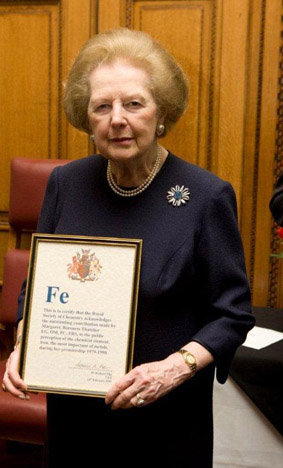 Lady Thatcher joined Prof Richards and other Royal Society of Chemistry guests in the Council room where the new book was available.
Lady Thatcher attended because she was a chemist by profession and she introduced laws on intellectual property, which was the subject of the book.
The Royal Society of Chemistry gave her a certificate confirming her contribution to the public understanding o0f the element iron.
The book was dedicated to Lady Thatcher because while Prime Minister she introduced two vital innovations, changing tax rules so as to introduce venture capital and in 1987 giving the Intellectual Property of Government-funded research to the universities.
Links of Interest

26 February 2009
The former Prime Minister attends book launch at Royal Society of Chemistry
Contact and Further Information
Press Office
Royal Society of Chemistry, Burlington House, Piccadilly, London W1J 0BA
Tel: +44 (0)1223 432294
Fax: +44 (0)1223 426594

---