Lesley Yellowlees condemns Paraffin Young plaque theft
22 May 2012
The Royal Society of Chemistry's President-Elect today condemned the theft of the chemical landmark plaque dedicated to the legacy of James "Paraffin" Young.
Professor Lesley Yellowlees was shocked to hear the plaque had been stolen from its location on the outside wall of the Bennie Museum, in Bathgate, West Lothian.
"This is awful news and very sad," she said. "All of those that were so involved with the museum gaining the plaque must be devastated too. I hope the police either find out who was responsible for the theft or that the thief or thieves have the decency to return the plaque."
The hexagonal blue plaque, made of cast aluminium and weighing 3kg, was only installed at the museum last month. It was unveiled by "Paraffin" Young's great-great-grandson, Ian Blackley at a ceremony attended by politicians, schoolchildren, scientists and others.
Mr Blackley said at the ceremony: "This reminds us that important scientific breakthroughs can have a lasting legacy for many generations."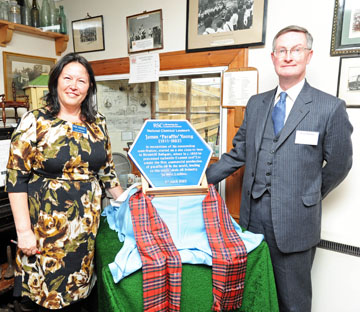 Professor Lesley Yellowlees and Ian Blackley unveil the plaque on 27 April.
The RSC announced last year on the 200th anniversary of his birth in Drygate, Glasgow it was going to award a chemical landmark plaque in honour of Paraffin Young.
The inscription reads: "In recognition of the outstanding contribution, made on a site close to here in Birniehill, Bathgate, where in c.1850 he processed torbanite ('cannel coal') to create the first commercial production of paraffin oil in the world, leading to the major shale oil industry in West Lothian."
Related Links

27 April 2012
The great-great-grandson of James "Paraffin" Young unveiled the RSC landmark blue plaque in his ancestor's honour at the Bennie Museum, Bathgate today.
---

09 November 2011
In the 200th anniversary of his birth, the RSC awards 'world's first oil man' James 'Paraffin' Young a chemical landmark plaque.
Contact and Further Information