Young Cambridge Science Festival winner claims his prize
11 June 2012
Professor David Phillips, the president of the Royal Society of Chemistry, congratulated youngster Toby Lock at Thomas Graham House on winning the RSC's competition: "What's the most demanding Olympic sport?"
The 11 year old from Ashby-de-la-Zouch, in Leicestershire, took part in the competition held at the annual Cambridge Science Festival - which drew thousands of enthusiastic children - ahead of the launch of the RSC's Chemistry in the Olympics website.
Toby, who wants to either be a baseball player or an RAF pilot when he's older, said the marathon was the toughest sport "because you have to be really fit and need to be able to know how fast to go and control your breathing. You need to be physically and mentally fit and you need to have good endurance too".
He won £100 in Amazon gift vouchers and a framed certificate.
Speaking at the RSC's office at Thomas Graham House, Toby said: "We like to come to the science festival every year because we like to learn new and exciting things in a fun and educational way. I'm really happy to win the competition because I put effort into my answer. I got to meet the president of the RSC, which was a really good experience because he's such a prestigious member of society."
Toby was joined on Friday by his family, who make the two hour journey to the Cambridge Science Festival every year, to collect his prize.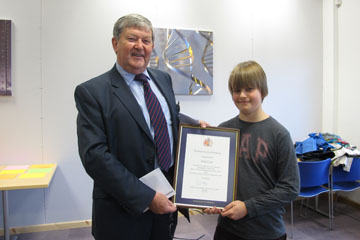 Toby receives his prize from RSC President Professor David Phillips
Toby's mum Jo added: "We've been overwhelmed with the reception, group of people who have met us including, of course, David. And the boys have been very happy and relaxed to mix with everyone today. We'll continue to attend the Cambridge Science Festival every year and it's fuelled the boys' interest in chemistry and we hope to take the Global Experiment back to their schools."
The winning entry was picked after a survey at the science festival put marathon and triathlon as joint first for the most challenging Olympic sports.
Professor Phillips said: "It is wonderful in this year of the Olympics to celebrate with the winner of our Cambridge Science Festival competition, who identified the attributes for success in the marathon. In fact, these are just the attributes you need to be successful in science too."
Related Links
Chemistry in the Olympics
Awareness of the range and depth of chemical science applications in all aspects of sport
External links will open in a new browser window
Contact and Further Information