RSC facing the final frontier - Curiosity roving on Mars.
18 April 2013
The Royal Society of Chemistry is over the moon that Paolo Bellutta, one of the drivers for the Mars Science Laboratory rover Curiosity, will be giving a talk at The Chemistry Centre this evening on what he has been doing so far on Mars - and what happens next.
Quentin Cooper, presenter of BBC Radio 4's Material World, the UK's most listened-to science programme, will chair the event tonight.
Last August the Mars Science Laboratory Rover named Curiosity successfully landed at Gale Crater. But how do you build, deliver and operate a one-tonne vehicle on a place that is so far away and so hostile to human life and activity? How does it communicate with Earth and how do you plan its daily activities, using a robot chemist, possibly to test for evidence of little green men?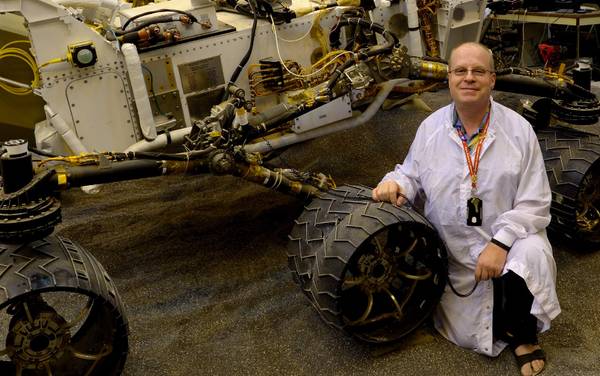 Paolo Belluta with Curiosity
Paolo Belluta works at NASA's Jet Propulsion Laboratory and has been a rover driver for nine years - previously for the MER
Spirit
and
Opportunity
vehicles and now as rover driver for MSL
Curiosity
.
Join in
Although the Chemistry Centre event is completely booked out, you can watch and take part online - check out the link below for details.
The hashtag for Twitter users is #RSCpubliclectures
you can tweet Quentin @materialworld
or the Royal Society of Chemistry team @RSC_Comms
Send your questions for Paolo - before or during the lecture.
Paolo has been much in demand in the media this week. See below for links to the Guardian Science Podcast and listen as he appears live on Radio 4's Material World this afternoon.
Tonight's talk is the latest in the RSC's Public Lecture series, held at the Chemistry Centre at Burlington House, on Piccadilly in London. Check out the link to TheReaction.net for more details.

Related Link
The Guardian podcast link
Rover driver Paolo Bellutta talks about the thrill of exploring the Martian landscape
BBC Radio 4's Material World website link
Quentin Cooper investigates the science in the news and the news in science
The Reaction website link
Details of tonight's lecture and link to live stream
Contact for Media Enquiries
Edwin Silvester
Media Relations Executive
Thomas Graham House, Science Park, Milton Road, Cambridge, CB4 0WF
Tel: +44 (0)1223 432294
Fax: +44 (0)1223 426594

---