Royal Society of Chemistry pays tribute to the greatness of Fred Sanger
20 November 2013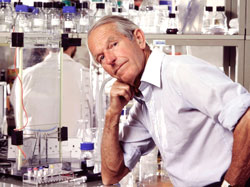 Fred Sanger's achievements and legacy will resonate in the world of science for years to come, the chief executive of the Royal Society of Chemistry said today on hearing of his death.
Robert Parker said: "Fred Sanger is the only person to have been twice awarded the Nobel Prize in Chemistry.
"His contributions towards chemistry transformed our understanding of the molecular systems of life and inspired a generation of scientists to explore the role of genetics in health and disease."
Fred Sanger was awarded an Honorary Fellowship of the Royal Society of Chemistry.
Dr Parker said that Fred Sanger's work in the early 1950s, to identify the amino acid sequence of the insulin protein, was a huge triumph, proving that all proteins have a defined chemical sequence and composition.
"This discovery laid crucial foundations for Watson and Crick's later discovery of how DNA codes for proteins, and earned him his first Nobel Prize in 1958.
"Not one to rest on his laurels, he then focused his attention on DNA sequencing by developing the breakthrough Sanger Method.
"This enabled long stretches of DNA to be rapidly and accurately sequenced for the first time, earned him his second Nobel Prize in 1980 and later formed the technological basis for the Human Genome Project.
"He was a giant of science who will be remembered for decades, for his work and also for his remarkable modesty."
Contact and Further Information
Press Office
Royal Society of Chemistry, Burlington House, Piccadilly, London W1J 0BA
Tel: +44 (0)1223 432294
Fax: +44 (0)1223 426594

---