Giant of nano science honoured by India
19 November 2013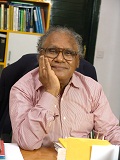 Professor CNR Rao, the foremost chemical scientist in India, and a prominent name in world science, has been awarded the coveted Bharat Ratna award by his country.
Professor Rao is only the third scientist - and first chemist - ever to receive India's highest civilian prize.
The great Indian cricketer, Sachin Tendulkar, has also just been given the award.
Dr Robert Parker, Royal Society of Chemistry chief executive, said today: "Professor Rao, who is one of our Honorary Fellows, is a prominent and much-admired figure on the world chemistry landscape; we send him our congratulations on this much-deserved honour."
Eighty-year-old Professor Chintamani Nagesha Ramachandra Rao is internationally admired for his work in nano science.
"Both these men have scored massively in their respective careers," added Dr Parker.
"India will be proud of the scientist and the cricketer, whose common ground is dedication to the highest levels they could achieve in their chosen fields."
Contact and Further Information
Press Office
Royal Society of Chemistry, Burlington House, Piccadilly, London W1J 0BA
Tel: +44 (0)1223 432294
Fax: +44 (0)1223 426594

---