Queens Birthday honour for our President-Elect
18 June 2014
The Royal Society of Chemistry's President-Elect, Professor Dominic Tildesley, has been given the prestigious honour of Commander of the Order of the British Empire (CBE) in the 2014 Queen's Birthday Honours.
Professor Tildesley, who will take over as President of the Royal Society of Chemistry from Professor Lesley Yellowlees next month, receives the honour for services to science, technology and business.
A world-leading expert in large-scale computational modelling and simulation, Professor Tildesley is currently Director of the European Center for Atomic and Molecular Computation, (CECAM) at the École Polytechnique Fédérale de Lausanne in Switzerland. He is also co-chair with Science Minister David Willetts on the Minister's UK e-infrastructure Leadership Group.
Welcoming the news, Dr Robert Parker, Chief Executive of the Royal Society of Chemistry said: "This honour is fitting recognition of the enormous contribution that Dominic has made to advancing the chemical sciences, both through his research in the field of computational chemistry and through his strong encouragement of programmes of collaborative research with universities and SMEs during his time at Unilever. With his vast knowledge and experience of inter-disciplinary research across chemistry, materials science, the life sciences and engineering we are very much looking forward to working with him as our President to continue to grow our community over the next two years."
The 2014 Birthday Honours list saw a number of other members of the chemistry community being recognised for their significant contributions to the science.
Professor Jeremy Sanders FRSC, Pro-Vice Chancellor for Institutional Affairs and Professor of Chemistry at the University of Cambridge, was given a CBE for services to higher education and scientific research. Professor Sanders' research has made significant impact in the field of molecular recognition, particularly in the development of dynamic combinatorial chemistry which paved the way for the discovery of novel biological receptors.
Dr Peter Wothers FRSC, Chair of the International Chemistry Olympiad Committee, was given an MBE for services to chemistry. Dr Wothers, a Teaching Fellow at the University of Cambridge, is an inspiring lecturer and science communicator who is heavily involved in promoting chemistry to young students and members of the public. He has been involved with the Chemistry Olympiad - an annual academic competition for secondary school students - for over 10 years. He presented the Royal Institution Christmas Lectures in December 2012, entitled 'The Modern Alchemist.'
Dr Diana Leitch FRSC, Trustee of the Catalyst Science Discovery Centre, was also given an MBE for services to chemistry. Dr Leitch is an independent consultant who is internationally respected for her work as an academic librarian and information professional. As Treasurer of the Royal Society of Chemistry's Chemical Information and Computer Applications Group she has played a leading role in numerous outreach activities including the Origins project with the Catalyst Science Discovery Centre in Widnes, Cheshire.
Mr Noel Grabham FRSC, South East Region Coordinator of the Royal Society of Chemistry's Benevolent Fund, was given a BEM for services to chemists. Mr Grabham has organised the structure of volunteer visitors that provide individual support to members and their families in the Kent area. In the pursuance of his voluntary duties, he has written comprehensive guidelines for new volunteer visitors and taken a leading role in many training events.
Dr Parker continued: "To have several chemists in this year's Queen's Birthday Honours is fantastic recognition of the hard work and dedication of members of our community to advancing scientific excellence and connecting the world with the chemical sciences. I'm delighted to see that so many of our Fellows have been given honours and I wish them my heartfelt congratulations."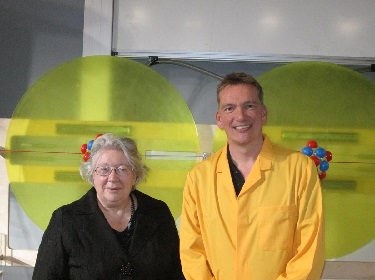 Dr Diana Leitch MBE and Dr Peter Wothers MBE at Dr Wothers' 'Modern Alchemist' lecture in Manchester on 17 June
Contact and Further Information