Chemistry for Non-Specialists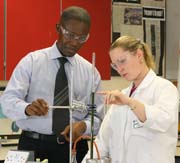 Currently teaching chemistry in a secondary school but hold a specialism in a different subject? Then this course is for you!
This affordable, high quality training programme is designed to provide teachers with the confidence, flair and enthusiasm to teach chemistry at KS3 or KS4. It is specifically aimed at those who are not chemistry specialists.
The four-day courses comprise a two-day residential and two one-day follow-up events at approximately one term intervals. They are delivered by experienced chemistry teachers, trained by the RSC. Courses are available at venues across England and are organised in collaboration with the National Network of Science Learning Centres.

The course is heavily subsided by the RSC and by the support of the Wolfson Foundation Reach and Teach programme.
In February 2008 the RSC commissioned the National Foundation of Educational Research (NFER) to evaluate the impact of the training on teachers who attended courses during 2007. The findings were very positive and the final report is available to download as a PDF.
What will the course involve?
Why has the programme been set up and who funds it?
Courses and booking information

Find details of the next course taking place near you
Downloadable Files
PDF files require
Adobe Acrobat Reader
Contact and Further Information
Annette Hutchinson
Programme Manager, Teaching & Curriculum
Royal Society of Chemistry, Thomas Graham House, Cambridge Science Park, Milton Road, Cambridge, CB4 0WF
Tel: 01223 432178

---