Silane, an analogue of methane
Demonstrations designed to capture the student's imagination, by Adrian Guy of Blundell's School.
In this issue: Silane, an analogue of methane

The silanes are generallymore reactive than their hydrocarbon analogues, and ignite spontaneously on contact with air. They also react explosively with F
2
, Cl
2
and Br
2
. Silane itself is a reducing agent in solution - when bubbled through an oxygen-free solution of Fe
3+
(aq), for example, Fe
2+
(aq) is produced.
1
Making silane
The laboratory preparation of silane makes for some fascinating chemistry and a good demonstration. Magnesium silicide is made first, followed by the production of silane gas which ignites spontaneously in contact with oxygen.
Kit
Soda-glass test tube, stand and clamp, 250 ml beaker
Magnesium powder
White sand (SiO2)
150 ml of 1 M HCl
Hammer; heat-proof mat
Protective goggles and lab coat
Safety screens

Procedure
Magnesium silicide can be made by heating magnesium power (5 g) and an excess of white sand (10 g) (used in biology as a grinding agent and in chemistry in chromatography experiments) in a soda-glass test tube over a roaring Bunsen flame (Photo 1). (Dry silicon dioxide powder may be used in place of sand.) After a short time an exothermic reaction takes place, producing intense heat and a red glow accompanied by a loud pop (Photo 2). The first product is silicon, which reacts with magnesium to produce Mg2Si:

SiO2(s) + 2Mg(s)
2MgO(s) + Si(s)
Si(s) + 2Mg(s)
Mg2Si(s)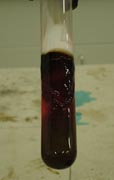 Interestingly, the glass also contains silica and becomes involved in the reaction (Photo 3). After the test tube has cooled it can be broken with a gentle blow from a hammer to expose the Mg
2
Si(s), see Photo 4. A mixture of hydrides of silicon, containing up to six silicon atoms in a chain can then be obtained by tipping the magnesium silicide into
ca
150
cm
3
of dilute 1 M HCl:
2
Mg2Si(s) + H+(aq)
Mg2+(aq) + SiH4(g) + H3Si-SiH3(g)

Adding a few drops of detergent to the hydrochloric acid before adding the magnesium silicide helps bubble formation and increases the effect. These hydrides are all spontaneously inflammable in air (pyrophoric), which results in the bubbles of gas popping with a bright orange flame.
SiH4(g) + 2O2(g)
SiO2(s) + 2H2O(g)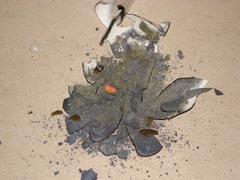 The bubbles continue to explode for several minutes after adding magnesium silicide. This part of the experiment should be done in low lighting to see the orange flashes.
The increased reactivity of silane compared with its analogue methane can be attributed to the readily accessible d-orbitals, available for bonding with attacking species. This is not the case with methane otherwise we would have major problems with our natural gas supply.
Safety
The reaction between silica and magnesium is very exothermic and can make a loud pop. Two safety screens should be used, with the teacher standing behind one, facing the students, and the experiment sandwiched between this screen and another in front of the students. All should be wearing safety specs.

Once the test tube has been allowed to cool, further reactions of magnesium and air take place when the tube is broken. Break the tube behind a safety screen and ensure everyone is wearing safety specs.

The reaction between the Mg2Si and hydrochloric acid is a little unpredictable, never particularly vigorous, but caremust be taken and a safety screen is recommended.
Special tips
This experiment can be done in an ignition tube, but the quantities are too small for a demonstration. Pyrex tubes are much harder to break than soda glass test tubes. Be patient when heating the silicon dioxide and magnesium powders; it can take a about a minute for the reaction to start, but it always will. Also continue heating with a roaring Bunsen flame until the reaction is over.
Teaching goals
This demonstration is useful if you are discussing the relative stability to hydrolysis of CCl4 versus SiCl4 in Y13 (A2 chemistry, Edexcel Nuffield topic 16, for example). SiCl4 is hydrolysed readily by water because of the accessible d-orbitals.
The demonstration can also be used to show GCSE chemistry students how reactive magnesium is, or how stable silicon dioxide is - ie a giant covalent structure, which requires a very reactive metal such as magnesium to react with it. I have also used this demonstration when discussing activation energy.
References
1. D. F. Shriver, P. W. Atkins and C. H. Langford, Inorganic chemistry, p288. Oxford: OUP, 1990.
2. G. F. Liptrot, Modern inorganic chemistry, 4th edn, p228. London: Unwin Hyan, 1983.