Hydrogen and chlorine - a photosensitive, free radical reaction
Demonstrations to capture the student's imagination, by Adrian Guy of Blundell's School. In this Issue: Hydrogen and chlorine - a photosensitive, free radical reaction
This is a safe and reliable way of demonstrating the photosensitive, free radical reaction between hydrogen and chlorine, which can be difficult to do safely in the lab.
Radical reaction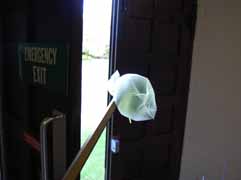 Conventional methods for this demonstration often rely on producing uv radiation by burning magnesium ribbon to initiate the reaction. The reaction mixture is contained within a stoppered boiling tube and the burning magnesium ribbon is dangled nearby. The resulting explosion ejects the cork from the boiling tube at considerable speed. I have used this method before, but have been rarely satisfied with the outcome. I was therefore delighted to find a method that involves using a thin-walled glass bulb which is filled with the gases and thrown out of an open window so that sunlight initiates the reaction.
1
Replacing the glass bulb with a polythene food bag makes for a reliable and safe alternative.
Kit:
10g of potassium manganate(VII);

25ml of conc. hydrochloric acid;

Bung fitted with a delivery tube (90° bend);

30cm x 15cm polythene food bag;

metre rule and black bin liner;

hydrogen cylinder or apparatus to make hydrogen gas.
Procedure
Working in a darkened room, add 20 ml of conc. hydrochloric acid to 10g of potassium manganate(VII) in 150 ml conical flask. (An alternative approach to make chlorine gas is to add 5 M of hydrochloric acid to 30 ml of fresh sodium chlorate(I) solution.) Insert the bung fitted with the delivery tube and approximately half fill a small polythene food bag with chlorine gas. Using your fingers to close loosely the mouth of the bag and capture the pale green chlorine gas, insert the hydrogen delivery tube and add approximately an equal volume of hydrogen. Seal the bag using a cable tie. Tie the bag to the end of a metre rule using string and put the gas-filled bag in a black bin liner so that you can safely transport the setup along a clear, safe, unobstructed route to daylight, which has been carefully planned prior to doing the demonstration. Then remove the bag and with the rule extended, walk through an open door into daylight. The bag will explode on exposure to the uv radiation from the sun.
Special tip
Do not use balloons or thicker plastic bags because they absorb more uv radiation and prevent the reaction from starting.
Teaching goals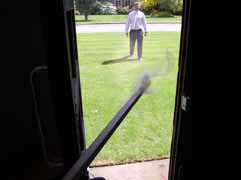 Free radical reactions are studied at Y12, including free radical substitution reactions of halogens with alkanes, and the role of CFCs in the catalytic decomposition of ozone.
Chlorine absorbs uv light, the energy of which is equivalent to ca 400 kJ mol-1. This is more than the Cl-Cl bond strength (242 kJ mol-1) in the chlorine molecule, which consequently splits into two chlorine free radicals with one unpaired electron each: 2
Cl2
2Cl

After this initiation step, each chlorine radical can react, on collision, with a hydrogen molecule by abstracting a hydrogen atom to form hydrogen chloride and a hydrogen radical:
Cl

+ H2
HCl + H

The hydrogen radical can then react with a chlorine molecule to produce another chlorine radical:
H

+ Cl2
HCl + Cl

These two propagation steps set up a chain reaction, which terminates if two radicals combine:
H

+ Cl

HCl
The probability of each of the four steps in the chain reaction is based on the relative concentrations of the species involved. The likelihood of the termination step is improbable, owing to the much higher concentrations of H2 and Cl2. Therefore, the chain reaction should propagate through a vast number of H2 and Cl2 molecules before it terminates.
References
1. G. S. Newth, Chemical lecture experiments, p 89. New York: Longmans, Green, and Co, 1922.
2. R. O. C. Norman and D. J. Waddington, Modern organic chemistry, 4th edn, p 75. London: Unwin Hyman,1983.
Safety
This method is not covered by the model risk assessments adopted by most employers, so member schools may need to ask CLEAPSS for a special risk a ssessment.
Chlorine is toxic by inhalation and an irritant to the eyes, skin and respiratory system. Conc. HCl is corrosive and produces irritating vapours. Chlorine gas must be prepared in a fume cupboard and nitrile gloves and safety goggles must be worn. Potassium manganate(VII) is an oxidising agent and should be kept away from combustible materials. When using the manganate(VII) method to make chlorine, make sure there is no conc. sulfuric acid in the fume cupboard or lab. Hydrogen readily forms explosive mixtures with air and must be kept away from naked flames.
Prepare the mixed gases in a blacked out room, or at night, and store the filled bag in a black bin liner. Wear a face shield when filling the bag, moving the setup and during the demonstration, and ear defenders for the demonstration. Students watching the demonstration must stand well back (10 m) and wear safety goggles. Do not increase the scale of the demonstration.