Reviews
Books for school and university
ASE guide to secondary education (2011 edition)
Martin Hollins (ed)
Hatfield: The Association for Science Education 2010 | Pp236 | £25 (PB) | ISBN9780863574283
Reviewed by Irfan Latif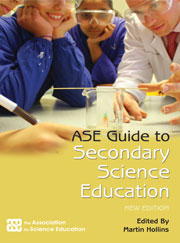 This is an excellent update of the 2006 edition and is a detailed and comprehensive handbook for all those involved in the delivery and management of secondary science education both in the UK and abroad. The range of authors who have contributed to the book read like a 'who's who' of science education.
It has been written to be both accessible and informative, keeping educational jargon to a minimum. PGCE students, NQTs, experienced colleagues, heads of department, technicians and assistants are all catered for in this indispensable guide.
The book covers many issues which concern the changing face of teaching and learning in science at this level, including How Science Works, ICT in science education, science in the 21st century, practical work and Assessment for Learning.
It provides examples of good classroom practice and plenty of material to help you to assess your own teaching and consider how it could develop in the future. At the end of each section there are lists of references and websites to encourage the reader to conduct further research to help consolidate their understanding of the material. The authors write passionately about their areas and this comes across in both the style and content.
The book is not a narrative as such, but each of the five sections link together. Although it is meant to be a useful reference providing expert guidance on a variety of issues, it still can be read from cover to cover.
Every science department should have a copy of this guide in its library.
Related Links
ASE Guide to Secondary Science Education
Purchase this book from the ASE
External links will open in a new browser window
Scientific teaching
Jo Handelsman et al
New York: Macmillan Science 2011 | Pp208 | £20.99 (PB) | ISBN9781429201889
Reviewed by Keith S Taber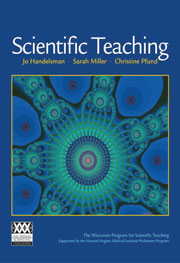 Scientific teaching is aimed at science teachers at higher education (HE) level, and is intended as a 'guide to improving undergraduate education in the STEM disciplines'.
The book appears to be based on the assumption that university and college teachers may be subject experts, but generally lack any sophisticated knowledge of pedagogy. They should therefore be invited to 'bring to teaching the critical thinking, rigor, creativity, and spirit of experimentation that defines research'. In other words, to think about scientific teaching in the sense of teaching scientifically as well as teaching of science.
In the UK, various publications and conferences have long offered university chemistry teachers opportunities to learn about effective pedagogy. Similarly, in the US there are active communities debating teaching and learning in the different STEM disciplines. For many university teachers, then, much in this book may seem to cover old ground.
Yet for those new to teaching in HE, or who have previously not engaged with issues of pedagogy, this book offers a very valuable and readable introduction. It covers a range of key themes such as student motivation, effective modes of assessment that support teaching and learning, and possible alternative approaches to the traditional one-way lecture. The book also puts emphasis on student diversity - which is important when we can too readily assume all our students think and learn as we do.
The book cites relevant research, although it is strangely selective in drawing upon the vast science education literature on teaching and learning. Despite that limitation, the book offers an informative outline to how teaching can be informed by research evidence to improve life for students and teachers alike.
Related Links
Scientific Teaching
Purchase this book from Amazon.co.uk
External links will open in a new browser window
How science works: teaching and learning in the science classroom
James Williams
London: Continuum 2011 | Pp168 | £19.99 (PB) | ISBN9781441147073
Reviewed by Kay Stephenson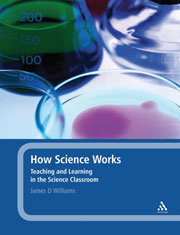 Although there are already quite a number of texts covering
How Science Works
, James Williams has written a short but comprehensive book that provides a useful addition to the collection. The opening chapter focuses on the importance of understanding the idea of 'the nature of science' which, very effectively, provides the framework for the remainder of the book.
Williams explores the strategy of teaching science through a How Science Works approach and provides clarification and justification for each aspect covered. Each chapter offers short, succinct and often thought-provoking discussions. The background information is relevant and interesting. Helpful suggestions for individual or group, reflective and classroom tasks are incorporated into most chapters along with references to books, journals, articles and weblinks for further reading.
Initially intending to dip in and out of the book, (a tactic Williams suggests in his introduction) I found myself drawn to reading the book from cover to cover. I found something in each chapter that made me pause for thought but particularly appreciated the sections covering scientific terminology, communicating science, the nature of scientific versus unscientific questions and investigation and experimentation in science. This latter section expands the author's honest appraisal of how closely (or not) school science resembles real science and throughout the book Williams provides numerous insights into what school science is and what it is not.
There are a few niggling errors in places which made me need to re-read some paragraphs but these are very minor quibbles given the engaging and perceptive nature of the content. Both trainee and experienced teachers would benefit from delving into this book as well as those responsible for curriculum and scheme of work development.
Related Links
How science works: teaching and learning in the science classroom
Purchase this book from Amazon.co.uk
External links will open in a new browser window
General chemistry
Donald McQuarrie et al
New Jersey, US: University Science 2011 | Pp1116 | £49.95 (PB) | ISBN9781429201889
Reviewed by David Read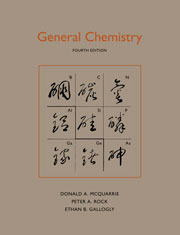 To a UK reader, the title
General chemistry
might sound a little vague, but for those familiar with the US system it will make perfect sense. Many introductory college chemistry courses in the US are called 'General Chemistry', providing content across all areas of the discipline at a level that could be described as 'A-level plus a bit more'.
The more advanced material in these courses will be covered by most UK undergraduate chemistry degrees before the end of semester one. As such it is difficult to see a market for this book in the UK as a course text. It is not advanced enough for university, but most teachers will consider it to be too advanced for A-level students.
However, the quality of the book means that it should not be ruled out as a potential purchase for those studying A-level chemistry who want some challenging reading material to extend their knowledge, in preparation for study at a higher level.
The writing style is very clear and accessible, and the text is accompanied by images and diagrams that have been chosen with care. Graphs and charts are included where appropriate, and everything appears in a logical order. The inclusion of historical anecdotes and biographies of the pioneers of chemistry are inspiring and offer something of a commentary about how we came to our current understanding of the subject.
While there are many other books out there which do a similar job, there few which do it better. For a reader who is looking to learn a bit more than they need to know to pass the A-level exam, this book might be the perfect choice. It is worthy of consideration against the alternatives that are out there, and for the US market, it certainly 'does what it says on the tin'.
RSC members can purchase this book direct from the RSC for a 35% discount.
Related Link

Copyright: 2011
Donald A McQuarrie
Interfacial science: an introduction
Geoffrey Barnes and Ian Gentle
Oxford: OUP 2011 | Pp336 | £29.99 (PB) | ISBN 9780199571185
Reviewed by Wuge Briscoe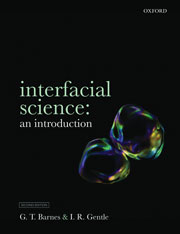 Teaching interfacial science within the undergraduate curriculum represents a considerable challenge due to its interdisciplinary nature that embraces a wide range of concepts. Barnes and Gentle have delivered with effectiveness and fluency a textbook that will undoubtedly enhance such teaching activities.
Colloid and interfacial science has gained renewed importance in recent years due to its fundamental relevance to emerging nanoscience and nanotechnology. This book serves as a comprehensive introduction, not only to the key scientific concepts and physical and biological phenomena, but also to the underlying principles of useful experimental techniques.
The book develops in a well-structured manner, following the central theme of the surface and interface. It begins by assuming no prior knowledge with some general definitions and considerations. It then introduces surface thermodynamics, laying the foundation that is necessary for dealing with numerous phenomena at different interfaces between gas, liquids and solids. Finally, it switches from the physical aspects of interfacial science to the fascinating biological interface.
A feature of the book is its skilfully-chosen worked problems that are integral components of the conceptual development. The book is also well referenced, allowing more thorough exploration of some of the topics through further reading.
For dedicated students or industrialists serious about entering the field, this volume should be devoured to gain a good introduction to various key concepts before more adventurous books are sought. For university educators designing undergraduate curricula, different segments of the book may be selected individually due to the relative independence of the chapters. Alternatively it may be used as a reference book, complete with well explained concepts, phenomena and experimental techniques.
RSC members can purchase this book direct from the publishers for a 25% discount on the RRP. See the member benefits link on this page.
Related Link
The exciting new benefits package offers members fantastic discounts on a wide range of products and services
Related Links
Interfacial science: an introduction
Purchase this book from Amazon.co.uk
External links will open in a new browser window