Get your voice heard on controlled assessments in GCSEs
25 June 2012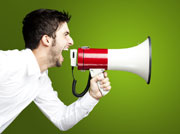 Ofqual is asking teachers, and other stakeholders, for their views on controlled assessments in GCSE qualifications.
As previously announced, they have launched a review of controlled assessment on a subject by subject basis. Ofqual say 'we know that, although controlled assessment has some benefits over coursework, it presents problems for schools in managing the practical arrangements across subjects and there are concerns about its impact on teaching and learning.'
The call for evidence asks individuals for their views on the effectiveness of controlled assessment in assessing subject-related skills, and for comments or concerns on their impact on student learning.
The deadline for responses is Thursday 12 July 2012.
Also of interest
08 May 2012
Ofqual has announced a review of controlled assessment in GCSE qualifications, on a subject by subject basis
Related Links
Controlled assessment review: call for evidence
Submit your views to Ofqual
External links will open in a new browser window