The Mole March 2012
The Mole is the Royal Society of Chemistry's twelve page magazine for chemistry students.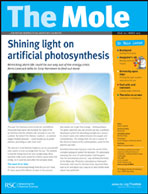 In this month's issue:
Shining light on artificial photosynthesis
Magnificent molecules - bombykol
Avogadro's lab - the shapes of molecules
Choosing the best experience - open days
Emma Shiells - picture editor at the Royal Society of Chemistry
Giving fuel cells a vitamin boost
Nanoear listens in on cellular motoring
On-screen chemistry - thermite break-in
Win £50 of Amazon vouchers
Downloadable Files
The Mole March 2012
The complete magazine, in full colour. Duplication permitted within schools and colleges.


PDF (4553k)
Shining light on artificial photosynthesis
Mimicking plant life could be our way out of the energy crisis


PDF (1321k)
Magnificent molecules - bombykol
Getting rid of a pest infestation can be tricky


PDF (864k)
Avogadro's lab - the shapes of molecules
Investigating why molecules have different shapes


PDF (727k)
Choosing the best experience - open days
Choosing a university course has never been harder, with a wider choice on offer then ever before


PDF (767k)
Emma Shiells - picture editor at the Royal Society of Chemistry
Emma works on magazines and books, sourcing scientific illustrations and photographs


PDF (912k)
Giving fuel cells a vitamin boost
Increasing energy demands of the 21st century


PDF (1309k)
On-screen chemistry - thermite break-in
The thermite reaction in Breaking Bad


PDF (970k)
Puzzles
£50 of Amazon vouchers to be won


PDF (642k)
PDF files require
Adobe Acrobat Reader