ASE Annual Conference 2013
01 October 2012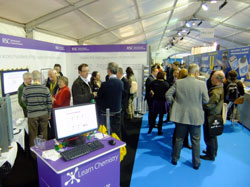 In 2012 the RSC launched Learn Chemistry at the ASE Annual Conference
Registration has opened for the Association for Science Education's (ASE) Annual Conference. The event runs from 2 - 5 January 2013 at the University of Reading.
The conference is open to all, and is designed to 'provide inspiration and information for anyone involved, or simply interested, in science education.'
The overall theme for this year's conference is 'constructing the future of science education; tackling 50 year challenges.' Sub-themes include assessment, science for all, curriculum development, practical and outdoor science, putting research and policy into practice and mathematics in science.
Delegates will find out about cutting-edge research in Frontier Science lectures from academics at the University of Reading. Seminars, workshops and courses will offer teachers and technicians ideas to engage students and enhance their professional development.
Education in Chemistry will be there to report back - take a look at our roundup of last year's conference to find out what you may have missed.
More information, a full programme preview and registration is available on the ASE website.
David Sait
Also of interest

03 February 2012
David Sait looks at some of the key events from the 2012 ASE Annual Conference
Related Links
ASE Annual Conference
More information, registration and programme preview
External links will open in a new browser window