Reviews
Books and resources for school, university and general interest
GCSE formative assessment tasks - core science
Andrew Grevatt and Mark Evans
Stevenage, UK: Badger Publishing 2011 | Pp138 | £99 (HB) | ISBN9781849264174
Reviewed by Trevor Critchley
GCSE formative assessment tasks - additional science
Andrew Grevatt and Mark Evans
Stevenage, UK: Badger Publishing
2011 | 132pp | £99 (PB)
ISBN 9781849264181
GCSE formative assessment tasks - chemistry triple science supplement
Andrew Grevatt , Mark Evans and Victoria Stutt
Stevenage, UK: Badger Publishing
2012 | 50pp | £63 (PB)
ISBN 9781849264204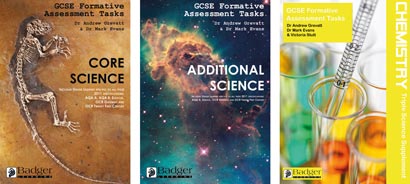 These books provide a wealth of good quality off-the-shelf resources, with twelve tasks for each of Core and Additional Science, covering ideas from the major topics common to all three main examination boards. Students are generally asked to write a short report to demonstrate their understanding of a topic.
Each of the sciences has one webquest which provides links to useful information and video clips from the Badger Science website, where you can access free sample pages. A short PowerPoint presentation introduces each task, along with a starter activity and a suggested structure for the report. The books include all of the files on a CD, along with SCORM versions for use with a VLE.
The broad and open-ended nature of the tasks is a real strength, with the new emphasis upon quality of written communication at GCSE. These are well-designed formative assessment tasks that allow students to express their understanding beyond the constraints of the often formulaic questions found in past exam papers. My students found the Rates of Reaction task stimulating, and I am convinced that teachers will consider these tasks well worth the time and effort required.
The short triple science supplement for chemistry has five similarly designed tasks, including a nicely differentiated webquest about ethanol production, which might be equally appropriate for students studying Core Science. Depending upon the examination board, there may also be some crossover in the other topics featured, for example Electrolysis, which is an Additional Science topic for AQA. With terminal examinations looming on the horizon, however, this is unlikely to cause anyone any major problems.
I feel that some element of further stretch and challenge might have been extended to the other tasks to increase the level of demand. For example, it was surprising not to see Le Chatelier's principle anywhere in the assessment criteria for the Haber process task.
My sole reservation is the unwieldy grade ladders that are supplied for each task, which are definitely not in 'pupil-speak'. The descriptors for grades A, C and E are way too long, and also sound a bit too similar for my liking: the differences between them are not clear enough for teachers, let alone students. It might waste some time, but they do need shortening and re-writing in plain English to be of real value for student self-assessment as they are clearly intended. However, as they are all included as Word documents on the CD, this shouldn't put you off, and I would still recommend these books as long as you are prepared to adapt the materials for your students.
Related Links
Assessment for learning resources
Purchase these resources from Badger Science
External links will open in a new browser window
Understanding advanced organic and analytical chemistry: the learners' approach
Kim Chan and Jeanne Tan
Singapore: World Scientific Publishing 2012 | Pp556 | £25 (PB) | ISBN9789814374989
Reviewed by Irfan Latif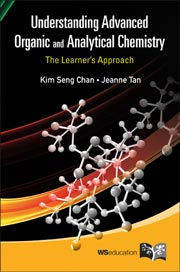 When I received this book, I thought 'not another organic textbook!' However this book is very different. It is not only a source of essential reference material, but it actually explains the difficult concepts in a clear and coherent way.
The book is easily accessible to those studying chemistry at A-level and IB. It is unique in the sense that it guides the learner through the understanding and application of essential chemical concepts by introducing a 'discourse' feature - the asking and answering of questions - that actually help to promote further thinking and to consolidate ideas. These questions really do help the student to think and invariably will lead the teacher to provide a simple explanation of some of the concepts met in class.
The stretch and challenge nature of this discourse is a good idea that works well and promotes independent learning. This rare approach helps the learner to see the connections between different ideas and concepts across the traditional divisions of organic chemistry. It also helps to develop their critical thinking and problem solving skills.
The informal written style, with an emphasis on understanding and conceptual learning, keeps the book easy to read and relevant. The clear, annotated diagrams help to reinforce the theory and address any misconceptions that students may have built up over their chemical careers. Highly recommended by my current A-level students!
Related Links
Understanding advanced organic and analytical chemistry: the learners' approach
Purchase this resource from Amazon.co.uk
External links will open in a new browser window
Oxford dictionary of forensic science
Suzanne Bell
Oxford, UK: Oxford University Press 2012 | Pp320 | £12.99 (PB) | ISBN9780199594009
Reviewed by Janine McGuire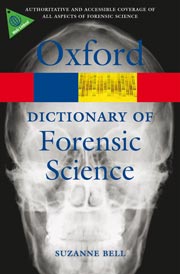 In the
Oxford dictionary of forensic science
the author Suzanne Bell has used her years of experience working in the field of forensic science to pull together a dictionary containing references to all the key areas.
The dictionary provides terminology and explanations of the majority of topics in the vast and increasing area of forensic science. From DNA to forensic computing, this dictionary covers in clear language all the key terms and techniques. The explanations are clear and concisely written, while being informative and engaging.
The cross-referencing in the book is useful and encourages readers to investigate unfamiliar terms, turning this book in to more than just a dictionary. The diagrams, illustrations and pictures are a welcome additional feature and, if anything, could be expanded on.
The book contains informative references to some of the pioneers in the field of forensic science and how their work has advanced this area. Also included are some classic and pioneering criminal cases, which demonstrate how new techniques were applied as the field emerged. It concludes with some appendices which include a comprehensive list of abbreviations, chemical data and references to websites for further reading.
This book would be suitable for a wide range of people, appealing to students at either secondary or university level, as a general reference source for professionals working in the area and also those with a general interest.
Related Links
Oxford dictionary of forensic science
Purchase this resource from Amazon.co.uk
External links will open in a new browser window
3D molecules edit&drill
Virtualnye Prostranstva
iPhone/iPad app 2012 | £2.49 |
Reviewed by Ciara Ní Dhrisceoil
As a chemistry teacher of 16-18 year olds who use iPads in the classroom, I'm always looking for apps that allow students to construct molecules with 3D visualisation.
3D molecules edit&drill
is a very effective app for this purpose as it allows organic and inorganic molecular structures to be built with single, double and triple bonds, as well as cyclic compounds. The molecules can be visualised in 3D using stick, ball and stick and space-filling (CPK) models.
In building these molecules, guidance is initially needed to show how to use the software. There is a help button that provides clear and concise screen shots demonstrating how to use the app. I would have the students study these first in order to competently build a molecule.
Once built, important information about the molecule can be displayed. For example, it is possible to visualise the atomic orbitals, see electronic effects using arrows and identify bond lengths and element symbols.
Building on that knowledge, the Test Yourself feature is a very useful tool for student self-assessment. The app tests the student on the construction of inorganic compounds (acids, oxides, hydroxides and salts) and organic compounds (alkanes, cycloalkanes, alkenes, dienes, alkynes, aromatic hydrocarbons and alcohols). Once 'Done' is selected, the app will inform the student if they are correct, or give them the option of seeing a hint, which will guide them towards the correct construction.
Once the molecules are built, they can be saved or emailed. This is another good feature for assessment as students can send molecules to the teacher and the image opens directly in the email.
The acid test was placing the app it in the hands of one of my students. He found the app easy to use and, most importantly, he enjoyed building the molecules and testing himself on a topic recently covered in class.
This is a valuable tool for beginner chemistry students when learning about molecular bonding and orbitals with the aid of 3D visualisation.
Related Links
3D molecules edit&drill
Purchase this resource
External links will open in a new browser window
Also of interest
Related Links
A celebration of chemistry
Every molecule tells a story
Maths for all
17 equations that changed the world
Catching the cheats
Run, swim, throw, cheat: the science behind drugs in sport
A visual introduction
Introducing philosophy of science: a graphic guide (2nd edn)
External links will open in a new browser window