Bill Bryson Prize 2012 and 2013
05 November 2012
Award-winning young science communicators gathered in the Speakers' House at the House of Commons last month to meet author Bill Bryson and collect their awards for the 2012 RSC Bill Bryson Prize.
The competition is an engaging and popular contest, designed to encourage and recognise clear science communication in schools and colleges.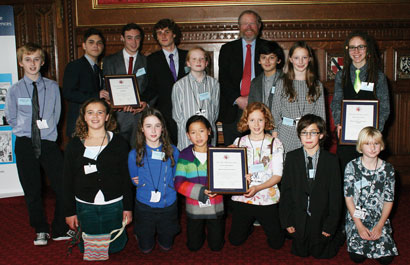 The winners receive their prizes and certificates from Bill Bryson
The overall winner was Jess Ham from Northamptonshire, who submitted a witty and beautifully-drawn comic strip story about secret chemistry agency Flask in a Mask. Find out more about Jess and read her latest cartoon in the upcoming November issue of The Mole.
The theme for the 2013 competition is 'How science keeps us healthy' and is open to students aged 5-18. Find out more from the RSC website.
Also of interest

A science communication award from the RSC - aimed at primary and secondary school pupils.