There is Death in the Pot by Frederick Accum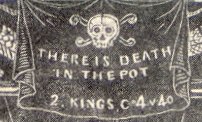 "There is Death in the Pot"




© Used with permission from the Journal of Chemical Education, Vol. 2, No. 10, 1925, p. 838

The Life and Pioneering work on Food Safety of Fredrick Accum

The RSC's Library and Information Centre presents the life of Fredrick Accum, a little known but influential chemist. This biography has been written by Lawson Cockroft, an RSC member and retired teacher who has written a number of articles on a historical chemistry theme.
These pages were created for Chemistry Week 2001.

Accum raises the awareness of food safety.
Working Life in London, Public Lectures and "Operative Chemist"

Accum's laboratories and work in London.
Pioneering Work on Food "Adulteration"

The publication of "A Treatise on Adulterations of Food and Culinary Poisons".
Final Years and Scandal in the Library!

Public opinion turns against Accum.
Contact and Further Information
Library & Information Centre
Royal Society of Chemistry, Burlington House, Piccadilly, London W1J 0BA
Tel: +44 (0) 20 7440 3373
Fax: +44 (0) 20 7440 3393

---