About Mrs Marcet and Conversations on Chemistry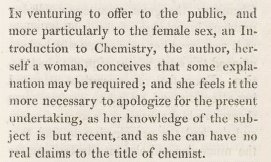 Preface to Conversations on Chemistry
If you were to ask chemists who was the 19th century's foremost communicator in chemical science you might reasonably get the reply Davy or Faraday. Indeed these two chemists did much to popularise chemistry through their lectures at the Royal Institution.
Inspired by these lectures Mrs Marcet was determined to explain chemistry in a straightforward and clear way even though she herself was not a chemist. She conceived of a novel way to do this by inventing three characters: the teacher Mrs Bryan (or Mrs B as she is called in the text) and her two interested and excited pupils Emily and Caroline.
Science was not a subject regularly taught to girls and certainly not one taught by women, yet Conversations on Chemistry became one of the most important books in chemistry and ran to 16 editions in the UK and the USA. It is estimated that 160,000 copies were sold in the USA alone. The fact that it went into so many editions is proof not only of its popularity but also its currency.
Michael Faraday, Humphry Davy's assistant at the Royal Institution felt a personal indebtedness to Mrs Marcet as one of his inspirations to study in the scientific field. In a letter to Swiss physicist Auguste de la Rive, Faraday said:
"Mrs Marcet was a good friend to me, as she must have been to many of the human race. I entered the shop of a book-seller and book -binder at the age of 13, in the year 1804, remained there eight years, and during the chief part of the time bound books. Now it was in those books, in the hours after work, that I found the beginning of my philosophy. There were two that especially helped me, "the Encyclopaedia Brittanica" from which I gained my first notions of electricity, and Mrs. Marcet's "Conversations on Chemistry" which gave me my foundation in that science."

Mrs Marcet was a prolific author and wrote among other books: Conversations on Political Economy, Conversations on Evidences of Christianity, Conversations on Vegetable Physiology and Conversations on the History of England. She was not adverse to publicising her other publications either. In her preface for Conversations on Chemistry, she wrote:
"The reader will perceive, in perusing this work, that he is supposed to have previously acquired some slight knowledge of natural philosophy, a circumstance so desirable, that the author has, since the original publication of this work, been induced to offer the public a small tract entitled "Conversations on Natural Philosophy", in which the most essential rudiments of that science are familiarly explained"

Our understanding of chemistry today is not the same as 200 years ago so allowance should be made when reading the text. The preface to Conversations on Chemistry is an example of the dialogue between all three fictional characters and gives an idea how Mrs Marcet conveyed scientific principles.
Throughout the two volumes are diagrams of experiments that Mrs Marcet describes. For ease of access we have included these illustrations as a separate set even though they are also referred to in the text.
Contact and Further Information
Library & Information Centre
Royal Society of Chemistry, Burlington House, Piccadilly, London W1J 0BA
Tel: +44 (0) 20 7440 3373
Fax: +44 (0) 20 7440 3393

---