Medicinal Chemistry of Tropical Diseases 2010
This one day symposium highlighted the challenges facing medicinal chemists tackling some of the diseases which ravage the populations of the poorer parts of the world.
The line-up of speakers was truly international and described 'cutting-edge research' in this field.
Professor Simon Croft (London School of Hygiene and Tropical Medicine) opened the symposium with a plenary lecture highlighting the background and current status of third world diseases
Professor Paul O'Neill (Liverpool School of Tropical Medicine) followed with recent results on the first Tetraoxane anti-malarial drug RKA 182
Dr Alan Stone (Medical Scientific Advisory Services) outlined recent advances in the use of microbicides as oral prophylaxis to prevent HIV transmission
Professor Ian Gilbert (University of Dundee) spoke about approaches to drug discovery for the neglected tropical disease tuberculosis
Professor Anastassis Perrakis (Netherlands Cancer Institute, Amsterdam) disclosed recent results on the J-base binding protein from Leishmania
Dr Jeremy Burrows (Medicines for Malaria Venture) talked about some recent medicinal chemistry on anti-malarial drug discovery
Professor Brent Korba (Georgetown University, USA) summarised the viral and cellular targets for anti-HCV therapies
Dr Jose-Maria Bueno (GSK Tres Cantos, Spain) gave the final talk summarising approaches to 4(1H)-Pyridones as anti-malarial agents.
Posters were presented over lunch by sixteen postgraduate or postdoctoral researchers working in drug discovery towards the treatment of tropical disease. These were of a very high standard and covered the whole range of scientific disciplines including molecular biology, medicinal chemistry and computational chemistry. Prizes were awarded to the poster presenters judged to have the best posters.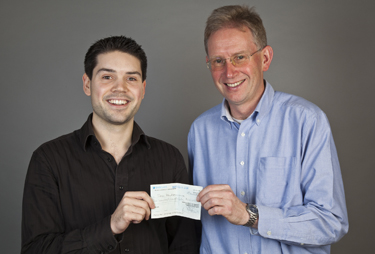 Poster Prize Winner - Sean Hudson
Sean Hudson from the Department of Chemistry, University of Cambridge, winner of poster prize for the best poster at the symposium, pictured with his supervisor, Professor Chris Abell.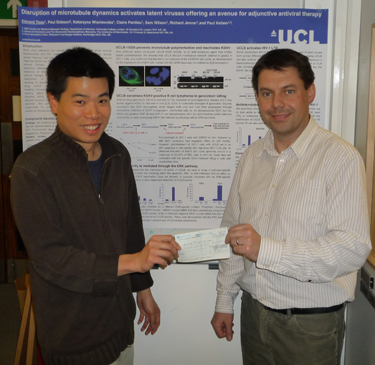 Poster Prize Runner Up - Ed Tsao
Ed Tsao from the MRC Centre for Medical Molecular Virology, Division of Infection and Immunity, University College London, winner of the runner-up prize for the best poster at the symposium, pictured with his supervisor, Professor Paul Kellam.
Downloadable Files
Medicinal Chemistry of Tropical Diseases 2010
Event Flyer and Final programme


PDF (1498k)
PDF files require
Adobe Acrobat Reader