7th RSC BMCS Biological and Medicinal Chemistry Postgraduate Symposium
13 December 2013
Cambridge University
This symposium was the latest in the annual series designed to showcase the very best postgraduate research in the field of biological chemistry and medicinal chemistry.
There were eight postgraduate oral presentations of 30 minutes while the lunch-time postgraduate poster session had 19 contributions.
The symposium also uses the Flash Poster format to invigorate the poster session, where the poster presenters 'pitch' a 2 minute slide to the audience to attract them to their poster - a format which has always generated lots of discussion.
There were also three plenary speakers:
Ashley Jarvis of Domainex gave an interesting insight into the challenges and career opportunities in a CRO
Stuart Conway, a lecturer at the University of Oxford and recipient in 2013 of the 'EFMC Prize for a Young Medicinal Chemist in Academia', talked about aspects of his research on the post translational modification of histones
Professor Herbie Newell from the Northern Institute of Cancer Research (NICR), gave a clinical and disease biology insight into both childhood leukaemia and breast cancer and how the different generations of chemotherapy have developed over the last century.
Registration for the Symposium was free and the meeting was attended by around 140 scientists whose feedback to an online questionnaire has been overwhelmingly positive
NB The 8th symposium in this series will be held on Friday 12 December 2014 in the Chemistry Department at the University of Cambridge
Prizes were awarded for:
the best oral presentation (£300 in cash plus a personal on-line annual subscription to MedChemComm and an RSC certificate)
the best poster presentation (£150 in cash plus a personal on-line annual subscription to MedChemComm and an RSC certificate)
both the oral and poster runners-up received a bursary to attend the Bursary to attend 25th East of England Medicinal Chemistry symposium on 24 April 2014 organised by the BMCS.
For the first time, in conjunction with the European Federation for Medicinal Chemistry (EFMC), the winner of the oral prize, Duncan Hay from Oxford University, has the opportunity to represent the UK at a satellite symposium to the XXIII EFMC 'International Symposium for Medicinal Chemistry' which will be held on 12 September, 2014 in Lisbon, Portugal. At this event, 'The Young Medicinal Chemists Symposium', Duncan will compete against the winners of the other EFMC student postgraduate symposia
The prizes were awarded as follows:
Oral Presentation - First Prize: Duncan Hay, Oxford University: 'SGC-CBP30: A Chemical Probe for CBP/p300 Bromodomains'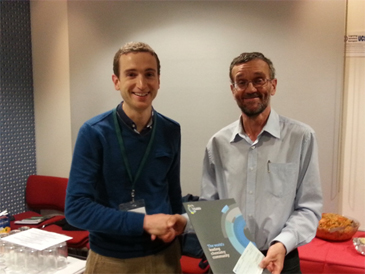 Duncan Hay, Oxford University
Oral Presentation – Runner-up Prize: Yu Heng Lau, University of Cambridge: 'A functionalised linker strategy for the diversification of stapled peptides'
Yu Heng Lau, University of Cambridge
Poster presentation – First Prize: James Clulow, Imperial College London: 'Unravelling the targets of electrophilic natural products using quantitative activity-based chemical proteomics'
James Clulow, Imperial College London
Poster presentation – Runner-up Prize: Jennifer Norcliffe, Durham University: 'Inhibitors of Kinetoplastid Sphingolipid Synthases as Potential Therapeutic Agents'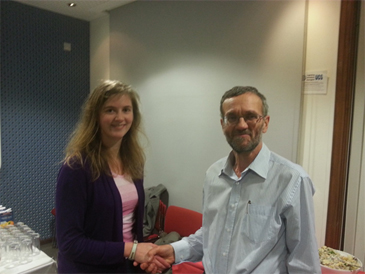 Jennifer Norcliffe, Durham University
Organising committee: Dave Alker (David Alker Associates), Rebecca Myers (University of Cambridge) and Gordon Saxty (Astex Pharmaceuticals Ltd)
The organising committee would like to express their thanks to the following organisations for their generous sponsorship of this symposium:
Astex
Domainex
Eisai
GSK
Heptares
Lilly
Neusentis
Novartis
Peakdale
Roche
RSC Mid-Anglia Section
Takeda
Vernalis

Downloadable Files
2013 Postgraduate Symposium Programme
Download the full programme


PDF (1776k)
PDF files require
Adobe Acrobat Reader