Council Members
Officers
Mark Weller current holds the Chair of Energy Materials at the University of Bath. He completed his MA and PhD at the University of Oxford before moving to a lectureship at the University of Southampton in 1985. His research group's interests have covered superconductors, inorganic pigments, optical materials, mixed anion phases, zeolite chemistry and battery materials.

He was awarded the Meldola Medal (1990) and Hugo Müller Prize (2008) by the RSC. He has published widely on solid state and materials chemistry and also on structural methods in inorganic chemistry. He is currently Chairman of the RSC Solid State Group.
---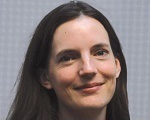 Molly M. Stevens is currently Professor of Biomedical Materials and Regenerative Medicine & Research Director for Biomedical Material Sciences in the Department of Materials, Department of Bioengineering and the Institute of Biomedical Engineering at Imperial College London. Research in the Stevens Programme focusses on designing and developing innovative bio-inspired materials for applications in regenerative medicine, tissue engineering and biosensing. Following her postdoctoral research within the Department of Chemical Engineering at MIT in the labs of Prof Robert Langer, she joined Imperial College in 2004 and was promoted as Professor in 2008. Molly Stevens' research has been recognised by over 20 major awards, she is a Fellow in six societies, and she has previously served on the Board of Reviewing Editors for Science and is Associate Editor of ACS Nano. More information on the Stevens Group
Related Links
Stevens Group
More information on the Stevens Group
External links will open in a new browser window
Elected Members
Gemma-Louise is a Lecturer in Materials Chemistry in the Department of Chemistry at University College London. Gemma-Louise graduated from Trinity College Dublin (Ireland) with a Degree in Natural Sciences (Mod. Chemistry) and remained there to undertake a PhD in Inorganic and Materials Chemistry, which she was awarded in 2011. Following a brief industry-supported Postdoctoral position in Trinity College Dublin (Ireland), Gemma-Louise moved to the University of Oxford as a Postdoctoral Research Associate, staying there for 2 years before she was awarded a Global Research Fellowship from the Institute of Advanced Study at the University of Warwick, where she began her independent career in 2013.
Gemma-Louise's research focusses on the design and development of nanostructured materials for three main applications: i) to understand and solve current healthcare challenges, with a focus on MRI contrast agents; ii) to overcome obstacles in important industrial processes, through the exploration of novel functional nanostructures; and iii) to assess the fate of commercial nanomaterials in the environment. Her work is highly interdisciplinary, collaborating with academics in Engineering, Physics, Life Sciences and Medicine as well as clinicians; she also engages with industrial partners to explore commercialisation of aspects of her work.
---
Sarah Staniland is a lecturer in Bionanoscience in the School of Physics and Astronomy at University of Leeds. Her multidisciplinary research interest centres around the biomimetic synthesis of nanomaterials, particularly nanomagnetic particles and how they are produced within magnetic bacteria.
She held an EPSRC Physical-Science/Life-Science Interface Overseas Postdoctoral Fellowship (Edinburgh 2005-2008 which included living and working in South Africa and Japan as a visiting research fellow), following an MChem and PhD in magnetic materials both at the University of Edinburgh. From a basis of magnetic materials chemistry, Sarah has moved into a multidisciplinary approach of using biology to control materials synthesis. Because of this she is very keen to promote as much interdisciplinary cross divisions, as well as cross societies e.g. RSC / IoP communication and involvement as possible.
---
Professor Graeme Cooke FRSC
Graeme Cooke is Head of Nanoscience and Materials Chemistry in the School of Chemistry at the University of Glasgow. His research interests at the present time are focused on supramolecular polymers and the synthesis of small molecules and polymers for bulk heterojunction solar cells and dyes and hole transporting materials for dye sensitized solar cells. He has published more than 120 peer-reviewed articles. He is an Editorial Advisory Board Member for the Journal of Materials Chemistry A.
---
Dr Ivana Radosavljevic Evans
Ivana Evans is a Reader in Structural/Materials Chemistry at Durham University. Before moving to the UK, she completed her first degree in Physical Chemistry in Belgrade, Serbia and her PhD in Chemistry at Oregon State University in the USA. Her research activities span solid state chemistry of functional materials across the chemical spectrum, from mixed metal oxides to pharmaceutically-relevant organics, and activities from synthesis to structural characterisation and property measurements.
She was awarded the 2003 CCDC Chemical Crystallography Prize, served as an elected Committee Member, Vice-Chair, and Chair of the Physical Crystallography Group of the British Crystallographic Association and the Structural Condensed Matter Physics Group of the Institute of Physics, and on the diffraction peer-review panels for ISIS and Diamond Light Source.
---
John Griffin is a lecturer in Materials Chemistry within the Department of Chemistry and Materials Science Institute at Lancaster University, where his research interests are centred around characterisation and development of novel energy conversion and storage materials. He carried out his undergraduate degree in Physics at the University of Warwick and remained there to carry out a PhD under the supervision of Prof. Steven Brown. He then took up a postdoctoral position in the group of Prof. Sharon Ashbrook at the University of St Andrews where he developed solid-state NMR methods to characterise disorder and dynamics in inorganic materials. This was followed by a postdoctoral position in the group of Prof. Clare Grey, FRS, at the University of Cambridge, where he worked on in situ NMR methods for studying energy storage devices. In 2016 he was lead organiser of the Recent Appointees in Materials Science (RAMS) conference held at Lancaster University, and was on the scientific committee for the Materials Chemistry Division poster symposium. He is also treasurer for the British Radiofrequency Spectroscopy Group within the Institute of Physics.
Appointed Members
Professor David Amabilino
David Amabilino is EPSRC/GSK Professor of Sustainable Chemistry at the University of Nottingham. Prior to taking up this post in 2014, he was Research Professor at the Institut de Ciencia de Materials de Barcelona (CSIC), having stayed for Postdoctoral periods in Strasbourg and Birmingham (UK). Both his BSc and PhD came from the University of London´s Royal Holloway and Bedford New College.
His main research interests are in the synthesis, characterisation and study of molecular materials systems, presently with a focus on the preparation of organic systems for solar cell applications. He has worked with materials with optical, electronic and magnetic properties, as ordered solids, liquid crystals, gels and as thin films and monolayers. Expertise in supramolecular chemistry guides the design of the systems that are being prepared in his group, and chirality and stereochemistry in general are an area of particular focus.

---
Dr Emma Kendrick FIMMM, FRSC, is a materials chemist and energy storage technical specialist, and joined WMG in late 2016 after a period of years leading industrial R&D projects in novel battery technologies. Formerly she was the chief technologist in energy storage at Sharp Laboratories of Europe Ltd (SLE) where she established the energy storage research and development program in sodium ion batteries; prior to SLE she was lead scientist for two start-up companies in lithium ion batteries, Surion Energy and Fife Batteries. She has been active in the field of functional materials for nearly 20 years, initially developing new ceramic pigments and synthesis methods for pigments (CERAM and Holliday pigments/ Lboro Uni) and latterly moved into the energy materials sector, fuel cells (Uni Surrey) and batteries. External positions include honorary positions within the departments of chemical engineering at University College London, and chemistry at the University of Birmingham, she is a recent appointee in the strategic advisory team (SAT) for EPSRC in physical sciences and a member of the Royal Society of Chemistry materials division council, as well as having several advisory board positions including STFC batteries and Energy SuperStore. Her academic qualifications include a BSc in chemistry from the University of Manchester, MSc and PhD in solid state materials from the University of Aberdeen and Keele University /CERAM research.
---
Theoni obtained a BSc in Chemistry from the University of Cyprus in 2001, followed by a PhD in 2006 in Polymer Chemistry entitled "Star polymers for gene delivery and star-based polymeric networks" under the supervision of Professor Costas Patrickios. She then worked as a Postdoctoral Fellow with Professor Antonios G. Mikos at the Department of Bioengineering at Rice University in the USA. She worked on "Polymeric materials for tissue engineering" and on "Degradable polymers for gene delivery". In October 2007, after she was awarded an RCUK Academic Fellowship, she moved to UK to join the Department of Chemistry at the University of Hull. In January 2014 she joined the Department of Materials at Imperial College as a Lecturer and she was promoted to a Senior Lecturer in September 2016.
---
Dr Robert Lucas is Principal Scientist in GlaxoSmithKline Consumer Health Skin Health Innovation where he leads research into novel formulation technologies and actives.
Robert obtained his PhD in organic chemistry from Surrey University prior to working in industry within the FMCG sector. Initially with Reckitt Benckiser where he developed proprietary polymer systems for denture care applications, before moving to GSK in 2007. His research focus remained within Oral Health developing novel abrasive systems until 2015, prior to moving to GSK Skin Health Innovation Team, where his research interests shifted to skin cream formulation technology and skin biology.
Co-opted Members
Dr Victoria Garcia Rocha is a Lecturer in the School of Engineering at Cardiff University working on the development of novel functional carbon-ceramic composites since July 2016. She obtained her MEng degree in Chemical Engineering (2001) and PhD in Materials Science (2008) in the University of Oviedo, Spain. After completion of her PhD, she spent six months working in industry as R&D and Quality manager and then moved to her first Postdoctoral Training at ITMA Materials Technology (Spain). At the end of 2012 Dr Garcia Rocha joined Bath University as a Research Officer in Chemical Engineering. At the time she was awarded a Marie Curie Intra-European Fellowship at Imperial College London, which she postponed for a year, joining Imperial in 2013 where she then spent two and a half years. Her research interests focus on disclosing the relationship between chemical structure and bulk properties of carbon materials, and carbon-ceramic and ceramic composites, which enable the development of synthesis, scale up and processing technologies with the aim of finding new composite materials for different applications, primarily advanced structural materials and energy devices.
Subject Group Representatives (non-voting)