News from across RSC Publishing.
Countering the effects of drug overdose
15 August 2006
Porous nanoparticles that soak up drug molecules like a sponge could help to reduce fatalities from overdoses, according to tests showing that tiny spheres of poly(acrylic acid) can absorb substantial amounts of an antidepressant and an anaesthetic in just a few minutes.
Nanoparticles are small enough to penetrate deep into tissues through fine capillaries, enter efficiently into the cells, and evade detection by the immune system. But their ability to combat overdoses had not previously been explored, according to Soma Chakraborty from the Ateneo de Manila University in the Philippines.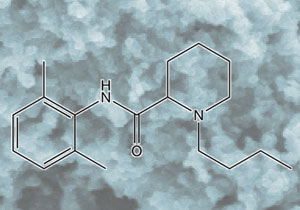 Drugs like bupivacaine can be sequestered with nanoparticles
He and P. Somasundaran of Columbia University, New York, US, tested the poly(acrylic acid) nanoparticles' scavenging ability by measuring how much of the drugs bupivacaine and amitriptyline they could extract from a saline solution.
Overdoses of bupivacaine, an anaesthetic used in surgical procedures, can lead to cardiac arrest and eventually death. Amitriptyline, a tricyclic antidepressant, is sometimes used in suicide attempts.
The scientists found that the nanoparticles extracted 81 percent amitriptyline and 62 percent bupivacaine in five minutes from a saline solution at 37 degrees Celsius. Since these conditions mimic the body's blood pH and temperature, the scientists suggest that the nanoparticles could swell to facilitate drug extraction when injected inside the body.
There is significant potential for further research in modifying and improving the nanoparticles to make them more compatible with the human system, said Chakraborty, which could also make them more effective in drug sequestration.
His future challenge, he said, is to make the nanoparticles more selective towards only the targeted drugs.
Elinor Richards
References
S Chakraborty and P Somasundaran, Soft Matter, 2006
DOI: 10.1039/b604713k