News from across RSC Publishing.
Waterproof paper on the horizon
25 August 2006
Swedish scientists have unveiled a new technique for making waterproof, self-cleaning paper.
A team of polymer scientists from the Royal Institute of Technology, Stockholm, modified ordinary filter paper to make it hydrophobic. Water droplets roll off the surface of the paper, carrying dust and debris away with them.
The team used a technique known as atom transfer radical polymerisation to graft glycidyl methacrylate groups onto cellulose fibres in the paper. They then grafted additional brush-like molecules, bristling with fluorine atoms, to the surface. These fluorinated brushes repel water and make the surface hydrophobic.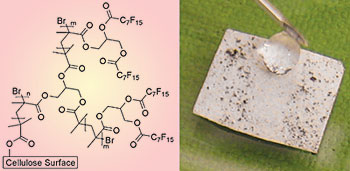 Water droplets roll off the surface of paper modified with fluorinated brush-like molecules
Paper and cellulose are cheap, abundant, biodegradable and renewable. The group's technique opens up possibilities for new applications of cellulose and paper. Eva Malmström, who leads the team, said, 'in the future we might be able to pattern thin papers using this approach.' This might eventually allow chemical sensors to be constructed by modifying paper.
The team say their two-stage 'graft-on-graft' method could be used to alter other rough surfaces. They are currently working on layered composites of biological materials and polymers. 'When the substrates are moulded together they form a solid material. This is a very versatile approach to make composite materials based on a very high percentage of renewable material,' said Malmström.
Another challenge facing the team is to make the technique more environmentally friendly. 'We have used a significant amount of fluorine, which is not very attractive,' said Malmström. She hopes to find alternative ways to accomplish a similar result without fluorine.
Clare Boothby
References
D Nyström, J Lindqvist, E Östmark, A Hult and E Malmström, Chem. Commun., 2006
DOI: 10.1039/b607411a