News from across RSC Publishing.
Submariners can breathe easy
24 October 2006
Calling all Beatles fans! You could spend a week on a yellow submarine breathing the same air without suffering any ill effects, scientists in Sweden have shown.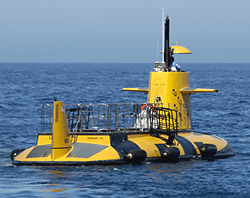 Modern submarines can stay underwater without coming to the surface for several days. Meaning crew members breathe the same air for an unusually long time. Aleksandra Sebastian and co-workers from Lund University, Sweden, have studied how the quality of the air on submarines changes over eight days of submersion. Submarines have sophisticated systems to manage the air quality but they have not been tested over extended periods of confinement before, said Sebastian.
Sebastian studied an extensive number of variables that could affect the crew's health. These included oxygen, carbon dioxide, and nitrogen levels, and the levels of volatile organic compounds and microbiological contaminants in the air. Sebastian found that there was not a build up of airborne hazardous compounds during extended submersions. Sebastian believes that air quality will remain acceptable when submarines are repeatability submerged for long periods.
Looking to the future, Sebastian hopes his research will help set 'occupational exposure limits for submarines' and assist with the design of 'air monitoring and air renewal systems for submarines of the future'.
Nina Athey-Pollard
References
O Persson, C Östberg, J Pagels and A Sebastian, J. Environ. Monit., 2006
DOI: 10.1039/b605331a