News from across RSC Publishing.
Migrating mysteries
14 March 2007
Measurements of strontium isotope ratios in birds' feathers could help unravel the mysteries of their migration patterns.
Recent concerns about the spread of bird flu means there is an urgent need to find better ways of monitoring the movements of migrating birds. Laura Font and colleagues at the University of Durham, UK, have developed a technique based on thermal ionisation mass spectrometry (TIMS) that can measure very low concentrations of strontium isotopes in bird feathers. This has allowed them to map how the isotopic composition of strontium in feathers of the sedge warbler varies with geographic location.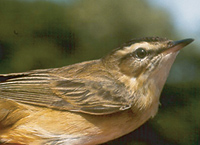 Analysis of strontium in the feathers of the sedge warbler can be used to track its movements
© Dr Stephen G Willis, Durham University
The routes of migrant birds have previously been studied using a variety of techniques, said Font, such as marking individuals with unique metal leg-rings, radio or satellite tags, or simply by counting bird numbers at migratory stop-over points. But these labour-intensive methods generate relatively little data and often do not reveal the origin of individual birds.
Migratory birds regularly renew their feathers, often prior to migration, and these feathers tend to reflect the isotope signature of the region in which they were grown. Although analyses using carbon, nitrogen, hydrogen and oxygen isotopes in feathers can give a rough idea of their origin, said Font, strontium isotope ratios in the bones, claws and egg shells of birds tend to provide a much more precise location.
Unfortunately, bone analysis is too invasive for routine use, and while loose feathers can be easily collected from nesting sites, these keratin-based tissues contain very low levels of strontium. Now, Font's technique has finally made accurate analysis of strontium in feathers a viable option for tracking birds.
'By determining migration pathways, the arrival of potential vectors of diseases from infected areas can be anticipated,' said Font. 'Knowledge of migratory routes also helps evaluate the likelihood that individual avian influenza outbreaks could be related to migratory bird movements rather than anthropogenic activities, such as poultry movements, which are believed to be the main vector of avian influenza in most outbreaks,' she added.
Sarah Corcoran

Link to journal article
Sr isotope analysis of bird feathers by TIMS: a tool to trace bird migration paths and breeding sites
Laura Font, Geoff M. Nowell, D. Graham Pearson, Chris J. Ottley and Stephen G. Willis, J. Anal. At. Spectrom., 2007, 22, 513
DOI: 10.1039/b616328a