A supplement providing a snapshot of the latest developments in chemical biology
Anaesthetised brains under pressure
19 September 2006
What happens if you get a frog drunk and then take him scuba diving? The answer could help explain how anaesthetics work, claim scientists in the UK.
Agnieszka Wlodarczyk and colleagues from the Royal Institution of Great Britain, London, are currently looking at the effects of high pressure on the brain. To date, scientists have found that the effects of various narcotics and anaesthetics on the brain are often reversed or enhanced under high pressure. For example, if a frog swims in alcohol until it becomes unconscious, it will resume swimming at higher pressures.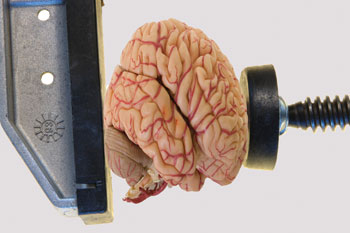 Research in this area could shed light on how anaesthetics control the consciousness of the mind, explained Wlodarczyk. One of the most important unsolved scientific problems is consciousness and 'how the brain works', she said.
A recent development in brain research involves studying the route electric current takes through brain slices in real time. The slices are treated with dyes that fluoresce as electrical current passes through them, allowing the route to be mapped. The route taken is believed to determine the brain's state of consciousness. Wlodarczyk and colleagues are now mapping these routes in brain slices under high pressure. This is a new and promising direction in the field, said Wlodarczyk.
Stuart Dunbar, a neurobiology expert from Syngenta, UK, said that being able to study tissues in real time is an important stepping stone in brain research. This could lead to a better understanding of what happens to the brain under anaesthesia, he said.
Nina Athey-Pollard

References
A Wlodarczyk, PF McMillan and SA Greenfield, Chem. Soc. Rev., 2006,
DOI: 10.1039/b517771p