Chemical biology news from across RSC Publishing.
Welcome to the 3D cultural revolution
25 June 2010
Enhanced 3D technology has led to a recent flux of 3D movies at the cinema. Now advances made by US scientists could see a similar 3D revolution in the laboratory.
Andreas Friedl at the University of Wisconsin-Madison and colleagues have developed a 3D microchannel co-culture assay platform to investigate signalling pathways in breast cancer. While 3D cell culture has been in use for almost two decades, it is expensive and not easy to use so its applications have been severely limited.
Conventional 3D culture is typically performed in open well plates, can be cumbersome and is not easily automated. A number of groups have demonstrated the potential of using microfluidics-based 3D culture, however, the complexity and requirement for specialised instrumentation have so far restricted its use.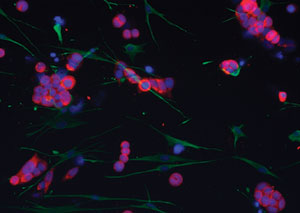 Microchannel 3D cell culture allows communication between cells to be studied
Friedl and colleagues use technology that integrates microchannel 3D culture with tubeless microfluidics and obtain results that are at least equivalent to conventional 3D culture. It will enable state-of-the-art 3D cultures to be performed with very small numbers of cells - allowing the use of primary cells from patient samples - in a high-throughput assay format, says Friedl.
Friedl is particularly interested in mechanisms of communication between breast cancer cells and the tumour microenvironment. He predicts this new technology will open the door to new ways of analysing such communication pathways. 'It will allow us to better understand the molecular events that govern communication between different cell types in breast cancer that lead to breast cancer growth and progression,' says Friedl. 'We will also be able to study primary cells from patient tumour samples and thus gain insight into cell-cell communication for individual patients,' he added.
'The application of microfluidics and miniaturisation in this system allows for an easy to use, efficient and money-saving platform. The ability to study co-cultures in this platform could enable researchers to gain a broader and more accurate understanding of integrated biological systems,' says Tilak Jain, an expert in microfluidics at Scripps Research Institute, La Jolla, US.
Sarah Corcoran
Enjoy this story? Spread the word using the 'tools' menu on the left or add a comment to the Chemistry World blog.
Link to journal article
3D microchannel co-culture: method and biological validation
Maret Bauer, Gui Su, David J. Beebe and Andreas Friedl, Integr. Biol., 2010, 2, 371
DOI: 10.1039/c0ib00001a