Experimental Data Checker and OSCAR Toolkit
Experimental data on new molecules in organic and inorganic chemistry is presented in a standard form which varies little from journal to journal. Typically, the appearance of the compound is described, followed by melting points (if applicable), Rf, infra-red and NMR data, and mass spectral information.
We have developed a Java toolkit which will extract this information from either a paragraph of experimental data, or a full paper, and then run some checks to test the data for consistency. It consists of an application for authors and editors to use to check their data before publication, along with the toolkit which can be used to develop other applications are freely available on this site.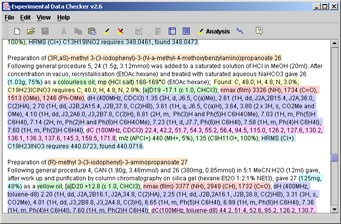 Experimental data checker: better information for organic chemists
S. E. Adams, J. M. Goodman, R. J. Kidd, A. D. McNaught, P. Murray-Rust, F. R. Norton, J. A. Townsend and C. A. Waudby, Org. Biomol. Chem., 2004, 2, 3067
DOI: 10.1039/B411699M
---
Get the Experimental Data Checker Application

Download and install the Experimental Data Checker on your computer
---
Download and install the OSCAR Toolkit on your computer
---
Rules governing use of the Experimental Data Checker and OSCAR Toolkit
---
Find out who developed the Experimental Data Checker and OSCAR Toolkit, and give us your comments