Soft Matter Newsletter
The Soft Matter newsletter "Soft Matters" is full of news and insights, enabling you to stay up to date with current developments. Sign up for Soft Matters and every month you will be among the first to receive:
News updates from Soft Matter
Insights into hot topics and areas of interest
Information about upcoming conferences and activities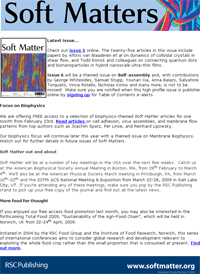 Registering to receive a free newsletter or Table of Contents alert is simple and offers a convenient way to stay up-to-date with new material. Use the link below to set up your own profile; you will then be able to select the newsletters and Table of Contents alert relevant to your areas of interest. Our alerts system enables you to manage your account, so you can modify your selections or unsubscribe at any point.
Register for email alerting services from RSC Publishing (including Journal Table of Contents alerts, eBook Collection alerts and newsletters).